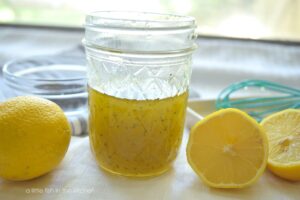 It's been a while since I've actually purchased a bottle of salad dressing for us at the house. It's safe to say I've been feeling pretty confident in my salad dressing-making abilities. Easy vinaigrettes are just plain life-savers as you just need a handful of ingredients to toss together something really good.
My new fave topping for green salads is definitely this Sweet Lemon-Poppy Seed Vinaigrette!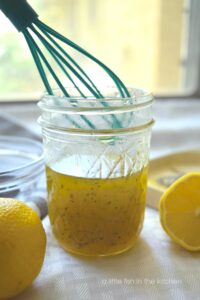 How to make sweet lemon-poppy seed vinaigrette
This is a no-fuss vinaigrette that requires just six simple ingredients to make a small batch. If you have some olive oil, one lemon or store bought lemon juice, honey, poppy seeds, and some salt and pepper in your kitchen, you are good to go. You will have a sweet, tangy homemade dressing all ready to drizzle over your next bowl of leafy greens in no time!
The hardest part of making this recipe will be the short wait you have to endure before you can use it. It's best to allow the Lemon Poppy Seed dressing to sit on the countertop or chill in the fridge for 20- 30 minutes for some delicious results. This tangy vinaigrette thickens slightly as it sits, and the flavors will come together beautifully if given just a little bit of extra time to mingle.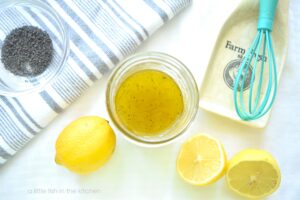 Stay cool my friends and happy eating!! xoxo -M
You definitely want to Pin this one for later, y'all!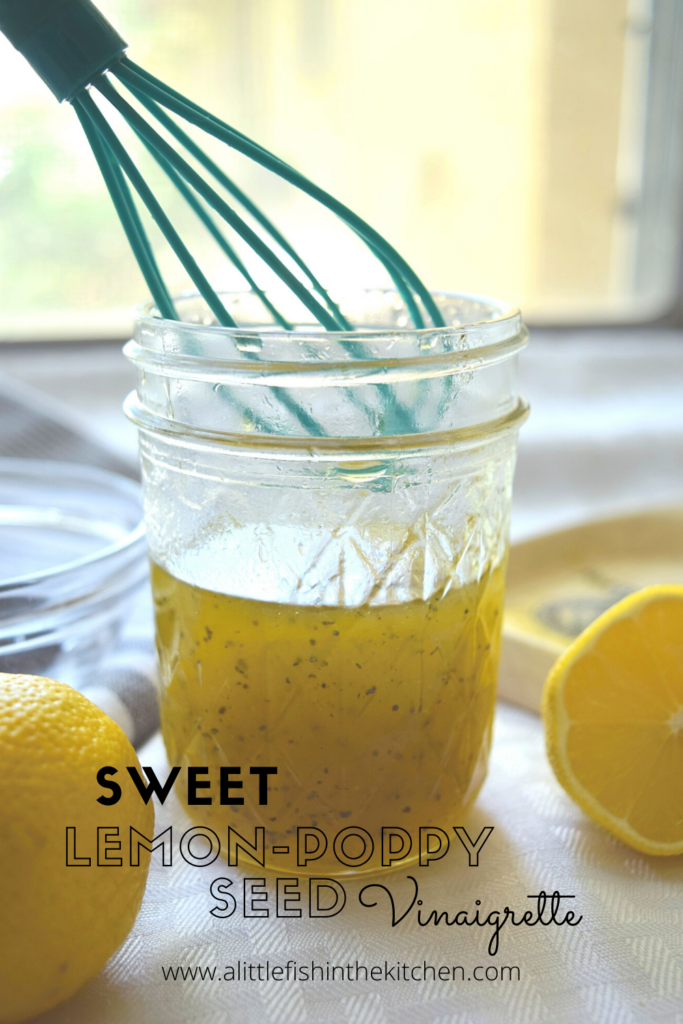 ONE OF MY LATEST VIDEOS!
I'd love for y'all to stay awhile! Sign up here to receive all of my posts right to your inbox! Subscribe now and never miss a new recipe or update!
Sweet Lemon-Poppy Seed Vinaigrette
Course: Salads
Cuisine: American
Difficulty: Easy
Ingredients
1/3 cup extra virgin olive oil

Juice of one lemon (2-3 tablespoons juice, to taste)

2-3 tablespoons honey (sweeten to taste)

1/4 teaspoon salt

1/8 teaspoon ground black pepper

a heaping 1/4 teaspoon poppy seeds
Directions
Combine all ingredients in a small bowl or mason jar and stir well.
Allow vinaigrette to sit or chill for at least 30 minutes before serving so vinaigrette can thicken slightly and flavors can marry.
Stir or shake vinaigrette just before serving. Serve with your favorite green salad and enjoy!
Recipe Video
Notes
Recipe as published on A Little Fish in the Kitchen at www.alittlefishinthekitchen.com. All content is owned by Marcelle G. Bolton. Please contact the author for permission to republish.