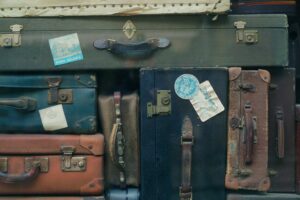 Hi everyone! After months and months of consideration, I've decided to move A Little Fish in the Kitchen to WordPress! I'm excited about adding some more customization and new elements to this blog that just aren't possible at the moment.
After sharing for years here on Blogger, I've made numerous, amazing blogging friends and I've enjoyed sharing with all of my readers, friends and family who visit me regularly here tremendously. I must admit, when I first started looking into moving this blog, it seemed so overwhelming that I entertained the thought of just starting a whole new blog and leaving Little Fish right here.
Then I sat down and went back through many of my posts just trying to assess recipes and clean up some typos, etc. I was caught off-guard when I became super emotional as I read back through of my old stuff. I revisited posts and pictures about days I remember so vividly, but they are from so many years ago now.
Many of these existing posts were rapidly typed up back when my daughter was a tiny baby taking a nap, or my son had a new experience in elementary school he couldn't stop talking or (or a bad day her he was so moody over) or he surprised me by trying a new food. I know I'm a big sap, but as I looked at the pictures I could hear sounds, remember conversations or remember smells (some good, some not-so-good!) of days and seasons that have passed us by… and I didn't want to leave it all behind! I just want this patchy, blogging story to continue with the same name.
So, onward and upward as they say! I'll be transferring my email subscriber list, and as much existing contact info as I can. I do hope you'll come see me over at WordPress. Hopefully this move will move along without a hitch and I'll have a new recipe post live soon on the new site! See you there 🙂
xoxo -Marcelle