This recipe was originally posted on June 13, 2019. On October 3, 2023 it's format was updated and in-post links to an email subscription service, and my YouTube channel were added.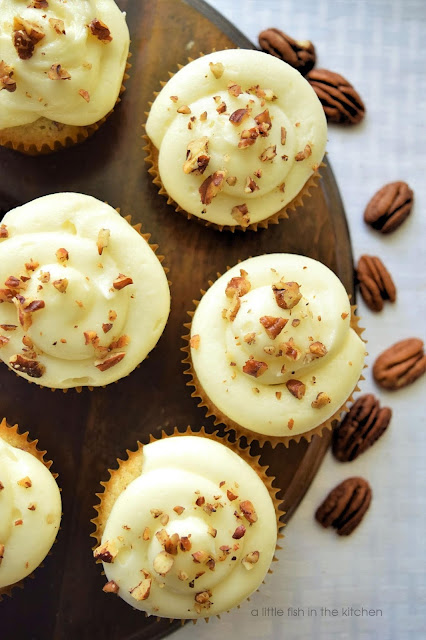 These butter pecan cupcakes with cream cheese frosting are quite possibly my favorite cupcake ever … and I've known a lot of cupcakes, folks. If you are a fan of butter pecan ice cream, I'm feeling super confident that you will be a fan of these cupcakes too.
That delicious, fragrant butter pecan flavor is unmistakable in this recipe.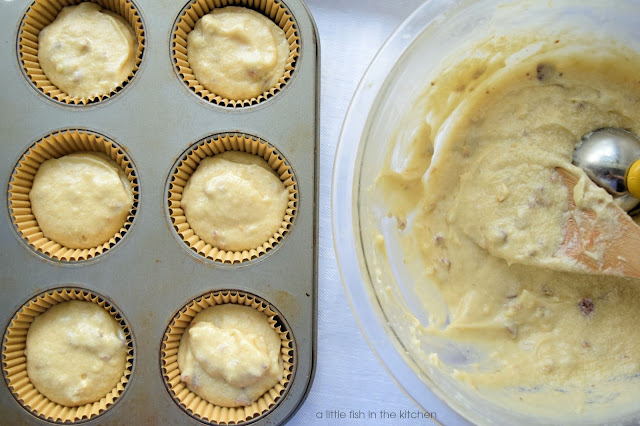 From the moment my blogging friend Valentina, The Baking Fairy, extended the invite for today's Cupcake Lover's Day sharing event, I knew I wanted to participate. However, at first I was thinking of doing a cupcake version of the classic Hummingbird Cake…and then I thought about Italian Cream Cake cupcakes.
I actually got really caught up and fixated on a creating a cupcake that used pecans!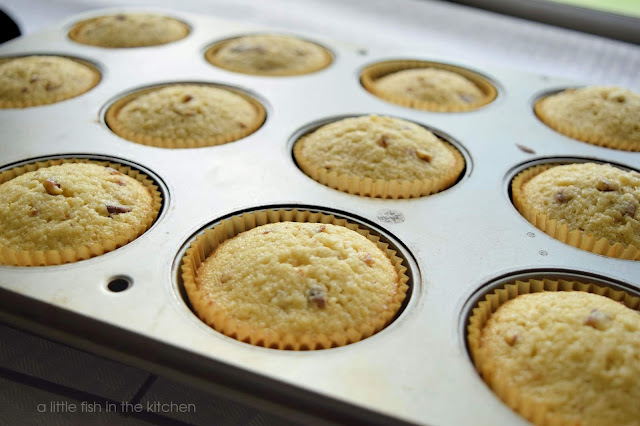 So, in the end, I decided to do just that and I tinkered around to make these flavorful, pecan-packed cupcakes. I decided to pair them up with a classic cream cheese frosting and the two make a terrific team, in my opinion. The crumb of these butter pecan cupcakes is sweet and all that sweetness is offset perfectly by the slight tang of the cream cheese icing.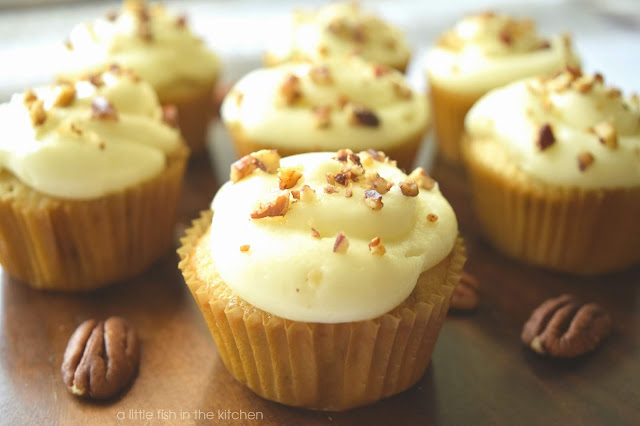 Today is National Cupcake Lover's Day and I've joined up with several other talented bloggers to suggests lots of ways for you all the celebrate the occasion! I hope you give these butter pecan cupcakes a try and that you see several recipes below that you like too!
Happy Baking, y'all!!
Be sure to save this recipe on Pinterest!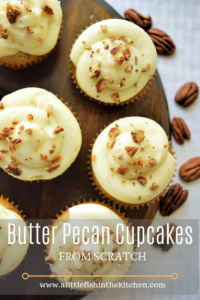 Please check out one of my latest videos on YouTube and subscribe to my channel for even more easy recipes and cooking live streams!
Sign up here to have all of my new posts sent right to your inbox! It's a free service, so subscribe now and never miss a new recipe or an update!
Thank you so much to Valentina, The Baking Fairy for organizing this sweet event!
More Cupcakes for Cupcake Lovers Day!
Vegan Birthday Cake Oreo Cupcakes by The Baking Fairy
Avocado Cupcakes with Lime Frosting by A Day in the Life on the Farm
Brown Cow Cupcakes by Palatable Pastime
Brown Sugar Cinnamon Cupcakes by Hezzi-D's Books and Cooks
Busy Bee Honey Vanilla Cupcakes by For The Love of Food
Butter Pecan Cupcakes with Cream Cheese Frosting by A Little Fish in the Kitchen
Cheesecake Cupcakes by Walking on Sunshine Recipes
Cherry Limeade Cupcakes by That Recipe
Cherry Vanilla Cupcakes by The Freshman Cook
Chocolate Cupcakes with Dulce de Leche Frosting by Cooking for my Soul
Chocolate Irish Cream Cupcakes with Irish Cream Frosting by Daily Dish Recipes
Cookies & Cream Cupcakes by Karen's Kitchen Stories
Creamsicle Cupcakes by Red Cottage Chronicles
Gluten Free Rocky Road Cupcakes by Frugal & Fit
Honey Lemon's HoneyBee Cupcakes by Simply Inspired Meals
Lemon Cupcakes with Coconut Frosting by The Olive Blogger
Lemon Lavender Blackberry Cupcakes by Culinary Adventures with Camilla
Lost Princess Cupcakes by Seduction in the Kitchen
Orange You Glad Cupcakes by Cindy's Recipes and Writings
Peanut Butter & Jelly Cupcakes by The Beard and The Baker
Pineapple Coconut Cupcakes by Crumb Top Baking
Pink Lemonade Cupcakes by Bowl Me Over
Pudding Pop Cupcakes by Nik Snacks
Small Batch Chocolate Cupcakes with Cookie Dough Frosting by Join Us, Pull Up a ChairStrawberry Basil Cupcakes with Chocolate Balsamic Frosting by The Spiffy Cookie
Strawberry Cupcakes by Confessions of a Baking Queen
Strawberry Jello Cupcakes by Kelly Lynn's Sweets and Treats
Sweet Summertime Cupcakes by Cooking with Carlee
Vanilla Bourbon Bacon Cupcakes by Our Good Life
Vegan Red Velvet Cupcakes by Simple Family Crazy Life
Watermelon Themed Cake & Cupcakes by The Mandatory Mooch
White Chocolate Truffle Cupcakes by Triple Chocolate Kitchen
Butter Pecan Cupcakes with Cream Cheese Frosting
Course: Dessert
Cuisine: American
Difficulty: Easy
If you're a fan of butter pecan ice cream, I think you'll agree that the rich, classic butter pecan flavor is unmistakeable in these cupcakes! Tangy cream cheese frosting perfectly compliments these sweet and flavorful Butter Pecan Cupcakes! These are a perfect sweet treat for any time of the year, but we love to enjoy them most in the fall.
Ingredients
1 cup coarsely chopped pecans

2 tablespoons salted butter

2 cups all-purpose flour

1 teaspoon baking powder

1/4 teaspoon salt

1 cup salted butter

1-1/4 cup sugar

1/3 cup light brown sugar

2 teaspoons pure vanilla extract

2 large eggs, slightly beaten

1 cup milk 

Cream Cheese Frosting

1 (8 oz) brick of cream cheese, room temperature (I used Neuchaftel Cheese)

1/2 cup (1 stick) unsalted butter, room temperature

1/2 teaspoon pure vanilla extract

3 cups powdered sugar, sifted
Directions
Pre-heat the oven to 350° and line a standard-size muffin tin with paper liners and set aside.
Heat 2 tablespoons of butter over medium heat in a skillet. Once the butter is warm (careful not to burn the butter), add the chopped pecans. Coat the pecans with the melted butter and saute until most of the butter is absorbed and the pecan are fragrant (1-2 minutes). Remove buttered pecan.pieces from the heat and remove them from the pan. Separate pecan pieces into two bowls, one with 2/3 cup  and the other with the remaining 1/3 cup and set them aside.
In a large mixing bowl, combine the flour, baking powder and salt and set the bowl aside. In the bowl of a stand mixer or another medium-sized mixing bowl using a wooden spoon, cream the butter and the sugars until light and fluffy. Mix in the vanilla extract and eggs.
Add the flour mixture to the butter mixture, one half at a time, alternating with the milk (1/2 cup at a time) to make a thick, but pourable batter. Fold in the reserved 2/3 cup of buttered pecan pieces.


Fill the lined muffin cups evenly with batter (about 2/3 full). Bake in the pre-heated oven for 15-20 minutes or until the cupcakes appear done and a toothpick inserted into the center comes out clean.


Allow the cupcakes to cool completely on a rack. Top with cream cheese frosting and garnish cupcakes with the remaining 1/3 cup chopped pecan pieces. Enjoy!


For the cream cheese frosting
Use a mixer or a wooden spoon to mix the cream cheese and butter until well-combined. Stir in the vanilla extract .


Stir in the sifted powdered sugar, one cup at a time, until the cream cheese frosting this thick and creamy. 
Use a butter knife or a piping bag fitted with a large round tip and frost the butter pecan cupcakes!
Recipe Video
Notes
Recipe from A Little Fish in the Kitchen blog at www.alittlefishinthekitchen.com. All content is owned by Marcelle G. Bolton. Please contact the author for permission to republish.