Hello! I know it's been forever, but I'm finally resurfacing after the busiest month (okay, 6 weeks…) evarrr! I'm super excited to be sharing a flavor-packed recipe for these spicy roasted chickpea pita pockets with you all today! I've had this post ready for a couple of days, but I decided to publish it on a Sunday… just in time for "meatless Monday"meal planning, ya know, if you do that sort of thing.
The inspiration for these vegetarian pita sandwiches came from a trusty, old Cooking Light cookbook I have on my book shelf. The original recipe uses a combination of mixed greens and a creamy chickpea and chicken salad for a filling in some pita pockets.
Honestly, the picture of that tasty-looking, chickpea and chicken salad pita sandwich catches my eye every single time I flip through the pages of that book, but oddly I've never made that exact recipe. I put my own spin on the concept and made a sandwich filling with spicy roasted chickpeas and a zesty lime vinaigrette!
My love of lime-based dressing is as real as it ever was too… I seem to put some version of that stuff on everything!
In general, I enjoy roasted chickpeas as a snack and presently this is my favorite spicy seasoning blend for roasting them…even if I'm not putting them in a pita pocket. However, this sandwich is a healthful, satisfying, meatless meal and I sure hope you all enjoy it!
Here are a few more recipes with my fave lime-based dressings you might enjoy:
Ya'll will definitely want to Pin this recipe for later!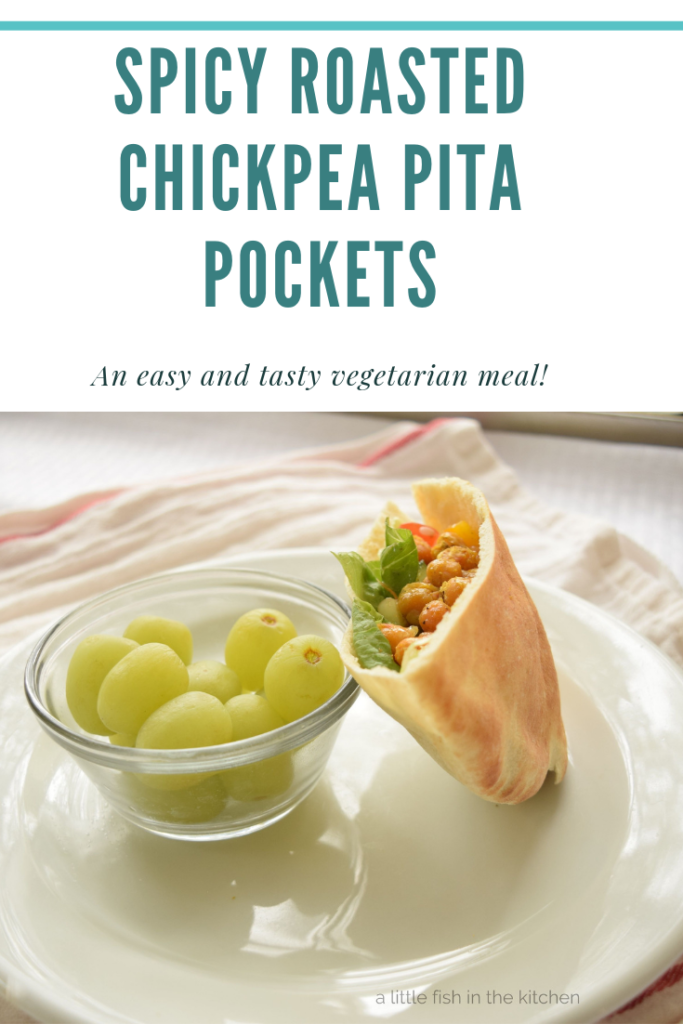 Subscribe here to receive all of my new posts by email! Sign up now and never miss a recipe or an update!
Spicy Roasted Chickpea Pita Pockets
Course: Main
Cuisine: Mediterranean
Difficulty: Easy
Ingredients
For the lime dressing

2 tablespoons of extra-virgin olive oil

2 tablespoon lime juice

1 teaspoon Dijon mustard

1/4 teaspoon garlic powder

1/4 teaspoon salt

1/4 teaspoon ground black pepper

1/4 teaspoon sugar

For the roasted chickpeas

2 (15 oz) cans chickpeas (garbanzo beans), drained and rinsed

2 tablespoons extra-virgin olive oil

1 teaspoon curry powder

1/2 teaspoon onion powder

1/8 teaspoon ground cayenne pepper

1/8 teaspoon ground black pepper

1/2 -1 teaspoon salt (to taste)

For the salad

2-3 cups mixed salad greens ( I used a bag Romaine salad mix)

1/2 medium cucumber, rinsed and diced

1 Roma tomato, seed and chopped

1/2 small yellow bell pepper, rinsed and coarsely

1/4 red onion, finely sliced or coarsely chopped (as you prefer)

For the sandwiches

Pita bread rounds, cut open on one side (for pockets)
Directions
Pre-heat oven to 375°. Prepare a baking sheet with parchment paper and set it aside. In a small bowl, mix all ingredients for the lime dressing together, stir and set the bowl aside.
Place the chickpeas into another medium-size bowl and add the oil and spices. Use your hands or a wooden spoon to gently coat the chickpea with oil and spices. Spread seasoned chickpeas evenly onto the prepared baking sheet and place it into the pre-heated oven. Allow chickpeas to roast for about 20 minutes, stirring at least once. Chickpeas should appear crisp and done. Remove baking sheet from oven and cool on a rack.
While chickpeas are roasting prepare your salad.
Make your salad. Toss lettuce mixture and all other veg in another medium-size bowl. Cover at set aside.
To build the pita pocket sandwiches, place 1/2 cup prepared salad into a pita pocket, top with 1/3 -1/2 cup spicy roasted chickpeas. Drizzle with prepared lime dressing. Serve with crispy potato chips or fresh fruit and enjoy!
Notes
Recipe from A Little Fish in the Kitchen blog at www.alittlefishinthekitchen.com. All content is owned by Marcelle G. Bolton. Please contact the author for permission to republish.