This blog post for Easy Ground Turkey Stroganoff was originally published on March 27, 2018. Post text, post format, and the recipe ingredients list were updated on March 20, 2022.
Today's post is about the recipe for this easy ground turkey stroganoff… a.k.a. crazy good comfort food. This is one of those dishes that is super simple yet super yummy and we rarely have leftovers to package up when I make it. Those are all fantastic qualities in a recipe, if you ask me, especially on busy weeknights!
This dish is a semi-homemade meal that my family loves, and I do use a can of condensed cream of mushroom soup in this recipe. I know some people get a bit down on that, and I could very well make my own creamy sauce, but sometimes those old-school flavors that only come from using condensed soups just make me happy! Also, I use ground turkey most often when I make this for dinner because we always have a pound or two of it readily available in our fridge. But, really you could use cubed turkey breast, cubed chicken breast, cubes of beef sirloin or any other cut of meat that floats your boat in this recipe, if you're not a fan of ground meat.
It didn't make it into the photograph, but there was a nice, fluffy bowl of fresh, steamed broccoli on the table just waiting to be served along with this quick and easy supper. A good steamed veggie or a nice, crisp green salad goes along great with this easy, rich ground turkey stroganoff.
I'll just add here that I found this soft-textured dish really difficult to photograph! So, scroll on down to the ingredients list if the pictures don't convince you that this family-friendly dinner is worth trying because it's definitely some tasty stuff.
Be sure to Pin this recipe for later!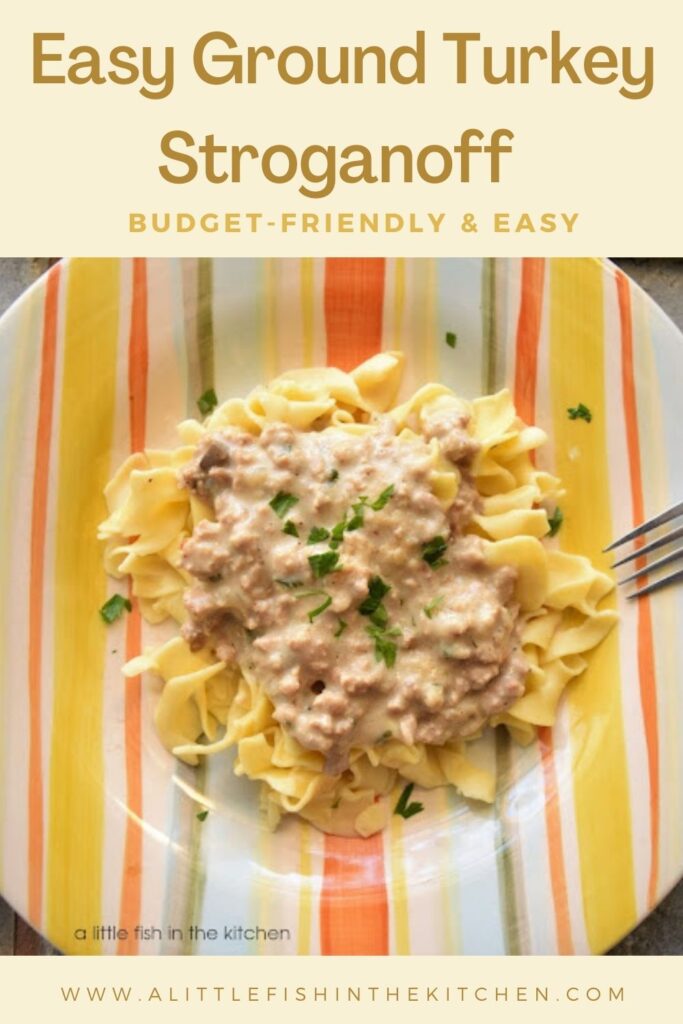 Please check out my YouTube channel and subscribe for more easy recipes and live streams!
Please enter your email address below to have all of my new posts sent right to your inbox! Subscribe now and never miss a recipe or an update!
Easy Ground Turkey Stroganoff
Course: family favorites, ground meat
Cuisine: American
Ingredients
1 package (8 oz) wide egg noodles
or (8 oz) pasta of your choice, cooked according to package directions and drained

1 tbsp olive oil or butter

1-1/2 lbs ground turkey (I used 93/7)

1/2 tsp salt

1/2 tsp ground pepper

1/3 cup fresh flat leaf Italian parsley, coarsely chopped
or 1 tsp dried parsley

1/3 cup onion, finely chopped

4 oz button or baby bella mushrooms, coarsely chopped

2 tbsp all-purpose flour

2 cups chicken or beef broth

1 can (10.5 oz) cream of mushroom soup (I used Campbell's brand)

1/2 cup light sour cream

extra tablespoon or two of flat Italian parsley, coarsely chopped (for garnish, if desired)
Directions
Add butter and turkey to a Dutch over or large skillet and begin to brown. Once meat starts to have a little color, drain the ground turkey and return it to the pot. Season with salt and pepper and add the onions, mushrooms and parsley to the pot. Saute until meat is cooked through and veggies are tender. 
Add the flour to the pot and stir until it is absorbed by the meat/veg mixture. Add the mushroom soup and broth the the pot and stir until it is well combined. Cover and allow to simmer, stirring occasionally for 15-20 minutes. Turn off the heat and stir in the sour cream.
Serve over cooked egg noodles and enjoy!
Recipe Video
Notes
Recipe from A Little Fish in the Kitchen blog at www.alittlefishinthekitchen.com. All content is owned by Marcelle G. Bolton. Please contact the author for permission to republish.