I cannot say enough about this easy sheet pan dinner. 
No, really, I just love it.
This is a healthy, make-ahead recipe that uses just a few inexpensive ingredients. Once you put everything together, all that's required is just a few hours for the ingredients to marinate and the result is a hearty, no-fuss meal that's packed with flavor.
It's also a versatile recipe and if you wanted to throw in some other vegetables, like zucchini, fresh corn or diced butternut squash, you most certainly could. You could also omit the meat entirely and mix in more veggies and it would become a satisfying vegetarian main dish.
I came across this recipe around a year ago in a Redbook magazine and it was the picture of the dish that immediately caught and held my eye. This meal boasts some pretty amazing color when it comes out of the oven! I have a serious weakness for the smoky spices and I couldn't wait to give it a try after I read though the recipe. As it was written, the recipe immediately peaked my interest, but as it turned out I had to make a few changes to better suit our tastebuds.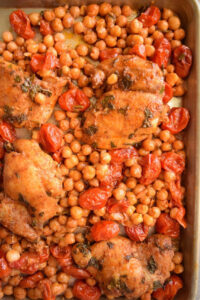 The original recipe called for four cloves of garlic, and that turned out to be an overpowering garlic experience for us the first time I made this dish. Seriously, even for hours after we ate we all had major garlic breath…it wasn't pretty. Needless to say, we didn't have any vampires invade our home that night…bleh, bleh, bleh!
However, I still loved the idea of this sheet pan dinner so I tried it again a few days later. But, I reduced the amount of garlic down to a much tamer single clove and that worked out much better for us. Also, the original recipe doesn't call for it, but I like to add in a few tablespoons of lime juice to the marinade. I think a little pop of citrus compliments all the rich, smoky spices, earthy chickpeas and the sweet cherry tomatoes. This recipe has been a steady hit since we balanced out the flavors to suit our personal taste.
I'm definitely planning to post more make-ahead sheet pan dinners here on the blog as they have become one of my favorite dinnertime short cuts. I hope you all enjoy this one too. xoxo-M
________________________________________________________________________________
Spicy Sheet Pan Chicken and Chickpeas printable recipe
Prep Time: 2 hours and 20 min
Cook Time: 45 min
Servings: 5-6
Ingredients:
1/3 cup extra virgin olive oil
1 large clove garlic, minced
1/2 cup fresh Italian parsley or cilantro, coarse chopped
3 tablespoons lime juice
1 tablespoon paprika
1 tablespoon smoked paprika
1 teaspoon cumin
1/4-1/2 teaspoon crushed red pepper (to taste)
1-1/4 teaspoon salt
1 teaspoon ground black pepper
2-1/2 boneless, skinless chicken thighs, trimmed of any excess fat
2 cans (15 oz) chickpeas, drained and rinsed
1 pint cherry tomatoes, rinsed
extra chopped parsley or cilantro for garnish
Instuctions: 1. In a small bowl, mix together the oil, paprika, garlic, parsley, cumin, red pepper, salt, black pepper and lime juice. Fold in the fresh herbs and set marinade aside. 2. Place the whole trimmed chicken pieces, chickpeas, and tomatoes together in a large resealable bowl. Pour marinade over the chicken and vegetables. Toss all ingredients with marinade and make sure everything is well-coated. Cover bowl and allow it to marinate in the refrigerator for at least two hours, but it can marinate for several hours or overnight if you prefer. 3.When you are ready to cook it, pre-heat the oven to 450°. Pour the contents of the bowl onto a large sheet pan and spread the chicken and vegetables out as evenly as possible. (I always try to scoot any veggies out from underneath the chicken thighs so that the meat is touching the pan. I believe every ingredient will cook more consistently if they're all in one even layer on the pan) 4. Place sheet pan in the oven and roast for 45-50 minutes or until the chicken is cooked through. 5. Enjoy!