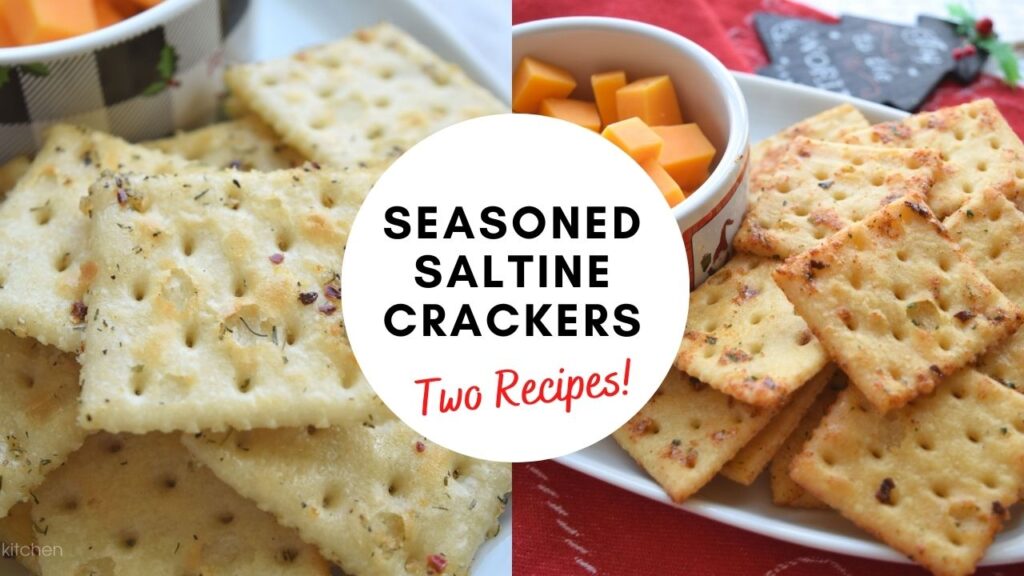 Cheese and cracker trays are pretty much a party food staple at my house.
Sometimes we make up the cheese trays ourselves to save a little money. Other times we pick up a store-prepared cheese tray just to make entertaining a little bit easier. No matter how we come by our cheese, the one thing we will always have next to it on the table will be a platter of these crazy good, seasoned saltine crackers!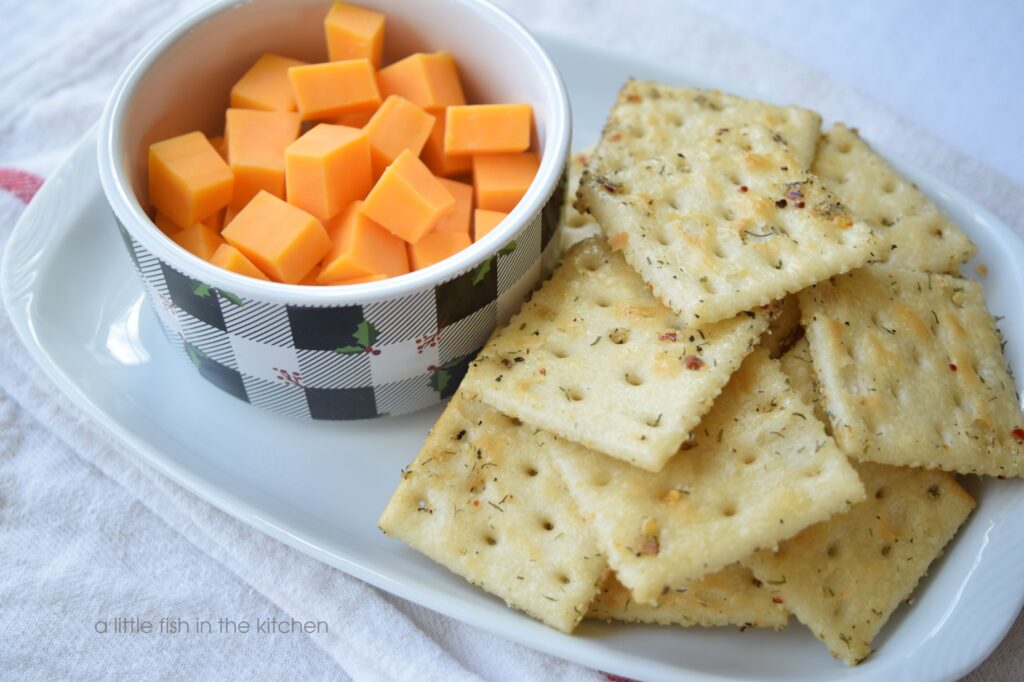 It's really true, we just can't do without them anymore. In fact, Evan will even ask for these delicious treats by name!
These seasoned saltines are all dressed up for the holidays in this post, but I assure you they are completely delicious any time of the year. They are also easy enough to whip up any day of the week for any reason at all.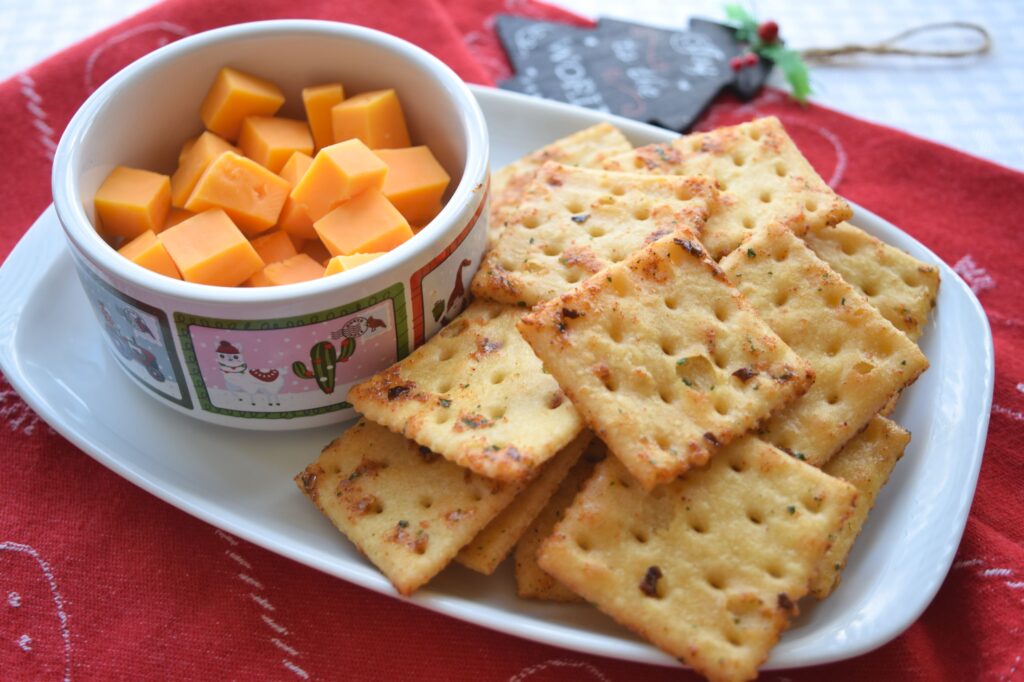 I shared a video about our two favorite ways to prepare these crackers on my YouTube channel in December 2021 as part of a brief holiday treats series I hosted. As it is, I'm running a bit behind on updating the site with the written recipes! So, just a heads up that this week you'll see quite a bit of me in your inbox if you are subscribed to my blog for email updates! I'm going to be updating the site with several new posts!! If you would like to subscribe, you can do so below on the form!!
On the recipe card below, I list the ingredients for both recipe versions of seasoned saltine crackers that I've shared about in this post. The ingredients you will need to prepare either (or both) the Spicy Italian Crackers and the Smoky Ranch Saltines are listed separately on this single card, but the preparation method for both recipes is the same.
I hope you enjoy the seasoned crackers and tell all of your friends about them! Happy snacking, y'all! xo – M
Check out one of my lastest recipe videos!
Please enter your email address below to have all of my new posts sent right to your inbox! Subscribe now and never miss a recipe or an update!
Seasoned Saltine Crackers- Two Recipes
Course: Appetizers
Cuisine: American
Difficulty: Easy
These seasoned crackers are sure way to jazz up an everyday cheese and cracker tray! They are also easy enough to make for any reason at all, any day of the week.
Ingredients
Spicy Italian Saltines

1 sleeve saltines with unsalted tops

1/2 cup vegetable oil

2 tablespoons dry Italian dressing seasoning mix

1/2 teaspoon dried dill

2 teaspoons lemon juice

1/4 teaspoon crushed red pepper or cayenne pepper

Smoky Ranch Saltines

1 sleeve saltine crackers with unsalted tops

1/2 cup vegetable oil

2 teaspoon lime juice

2 tablespoons dry Ranch dressing seasoning mix

1/4 teaspoon smoked paprika

1/4 teaspoon chili powder

1/4 teaspoon cayenne pepper or crushed red pepper
Directions
Remove the crackers from the packaging and place them into a re-sealable plastic bowl, set it aside.
In another small bowl, mix the oil and the seasoning together with a whisk or a spoon.
Pour the seasoned oil directly onto the crackers in the bowl. Gently toss them with a silicon spatula or your hand to coat them completely with the oil. There will be oil settled at the bottom of the bowl. Seal the bowl and set it aside to absorb the oil.
After 45 minutes or an hour (much or all of the oil will be absorbed at this time), gently toss the crackers once more to better distribute the spices and seasoning. Allow the seasoned crackers to sit for at least one more or until you are ready to serve them.
Please watch the recipe video below, if you want to watch me make both recipes! Enjoy!
Recipe Video
Notes
Recipe from A Little Fish in the Kitchen www.alittlefishinthekitchen.com. All content is owned by Marcelle G. Bolton. Please contact the author for permission to republish.