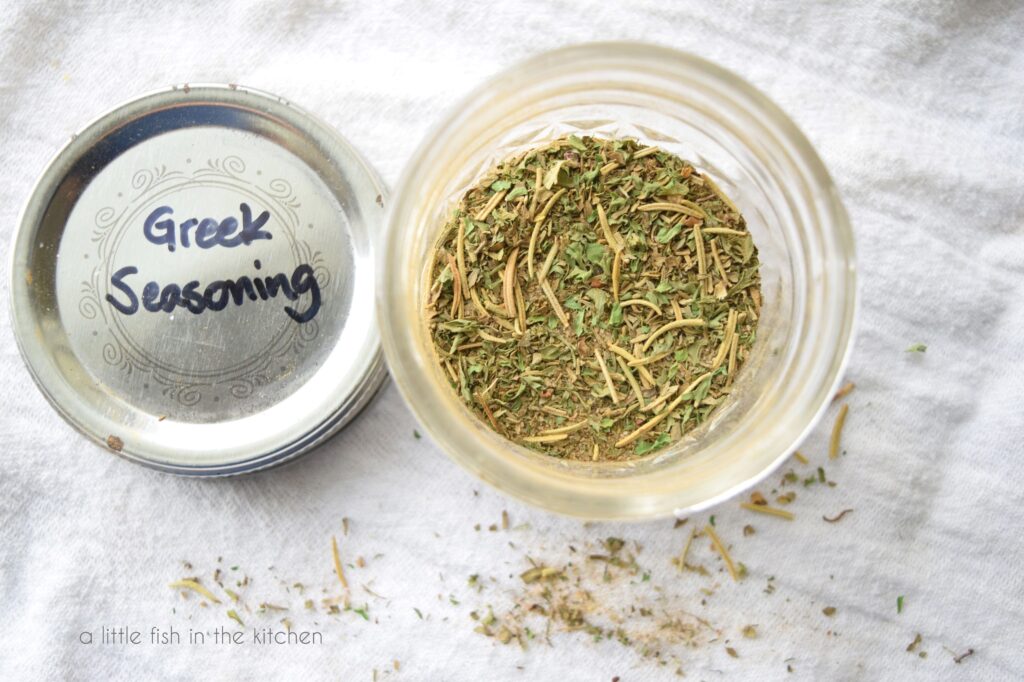 Y'all, it's safe to declare homemade Greek Seasoning my latest obsession!
So, I'm gonna give you the back story on this newest spice blend love of mine.
Evan and I recently went on a lunch date to a local restaurant and normally we keep it pretty low-key and order grilled chicken or a nice sandwich when we grab a bite to eat midday. However, on this particular day, a Greek Chicken Pasta Salad was on the menu and once I saw it, the curiosity was more than I could bear. The description was basically a melody of some of my favorite things: marinated grilled chicken, red bell pepper, Kalamata olives, cucumbers, red onions, pepperoncini peppers, pasta, feta cheese, Greek seasoning, and dressing. I'm so glad I ordered it, it was an absolutely delightful meal!
I left the restaurant that afternoon determined to recreate that tasty Greek pasta salad at home. Later that day, I went straight to the internet and my little cookbook library to search for any Greek-inspired pasta salads that have already been shared. I was also on the lookout for any other simple, Greek-inspired dishes I could find. So many recipes on blogs, magazine websites, and in my old cookbooks featured many of the same ingredients that were on the delicious salad I had eaten that day.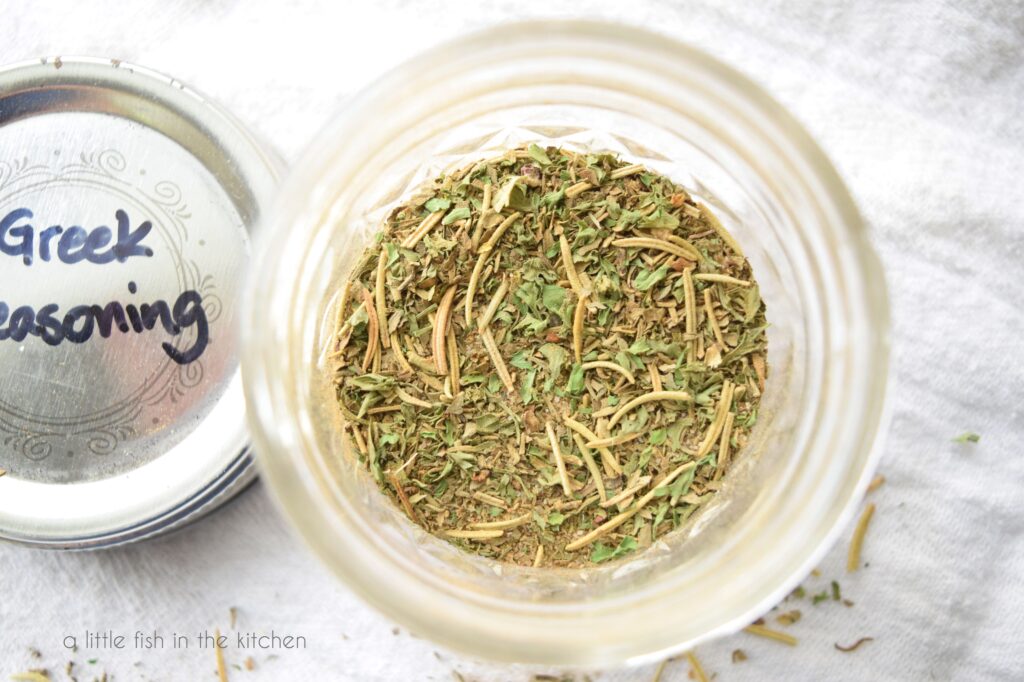 Many recipes I found vaguely called for a measure of Greek seasoning, just like the description on the menu did on that breezy, March afternoon. So mysterious, right?? As I was completely unfamiliar with cooking Mediterranean cuisine at home, I drove to both of my local grocery stores and searched for commercially prepared Greek seasoning blend to purchase with no success. However, to my surprise, there were several commercially prepared Greek seasoning blends to choose from online, but I did not want to wait!
Thankfully, there were several, reasonably similar versions of homemade seasoning blends shared on on various websites to solve the lingering mystery of what a Mediterreanan-style spice mixture consists of! I was also thrilled to see that I had most of the spices listed in those recipes on hand to whip up a small batch. Since then, I've tinkered with what I took from those recipes and created a homemade Greek seasoning blend that we enjoy regularly these days.
As of late, Evan and I have been experimenting quite often with Mediterranean and Greek dishes and it's been such a delicious little ride. We've used this homemade Greek seasoning to add flavor to burgers, in meatballs, pasta salad and salad dressings.
We think it's some good stuff and we hope you enjoy it too! I'll be sharing some of my new favorite ways to use this spice blend soon, so stay tuned for some Mediterranean flair!
Happy eating, y'all! xo -M
Y'all don't forget to Pin this recipe for later!!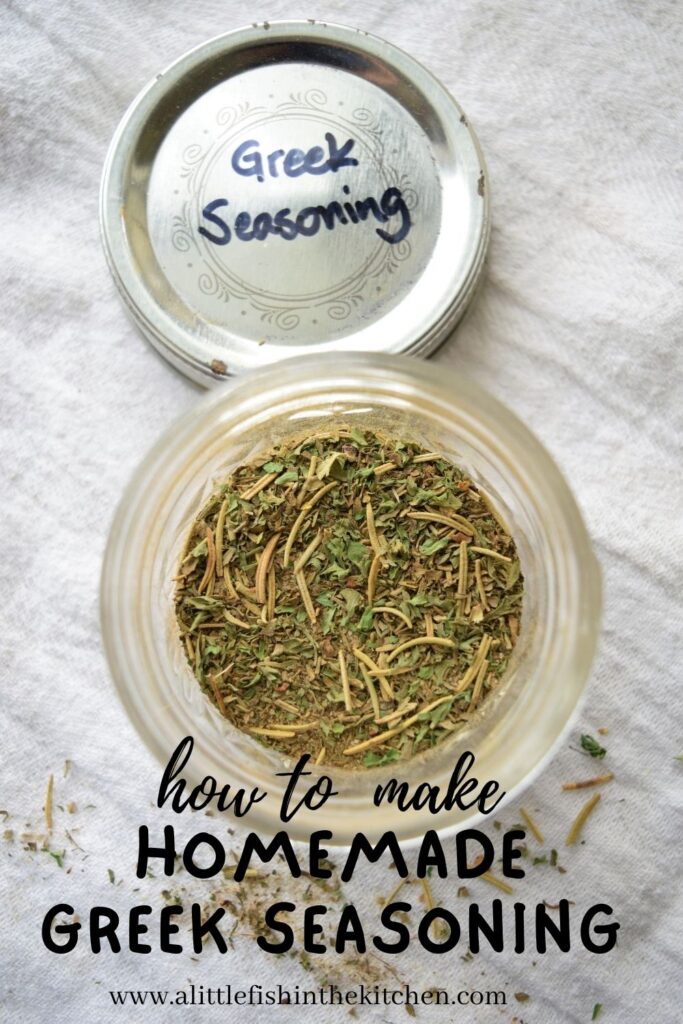 Check out on of my latest recipe videos! Be sure to subscribe to my YouTube channel when you visit!
Subscribe here so you'll never miss a post or an update!!
My homemade Greek Seasoning blend is made from combining twelve pantry-staple spices. It's earthy, sweet with just a hint of warm spice, and delicious on so many things!
Ingredients
2 tsp ground oregano

2 tsp dried sweet basil

1 tsp dried dill

1 tsp dried parsley

1 tsp onion powder

1/2 tsp garlic powder

1/2 tsp dried thyme

1/2 tsp dried rosemary

1/2 tsp ground cinnamon

1/2 tsp ground nutmeg

1-1/2 tsp salt

1 tsp ground black pepper
Directions
In a small bowl, mix all spices together and stir well.
Transfer Greek Seasoning mix to a mason jar or another bowl with a lid.
Enjoy!
Recipe Video
Notes
Recipe from A Little Fish in the Kitchen www.alittlefishinthekitchen.com. All content is owned by Marcelle G. Bolton. Please contact the author for permission to republish.