Well y'all, I know we're a few days into the month already, but it's still incredibly hard for me to believe that December 2018 has arrived. I know it sounds so cliché, but I truly think 2018 may be the fastest moving year of my life so far. Lately, I've been crazy busy with family visits as well as planning and hosting my daughter's recent 6th birthday party and I'm finally recuperating (as is the state of my house) after all of that continuous entertaining. Now Christmas is coming and I'm feeling the pressure of the rapidly dwindling calendar days each morning when I wake up. However, whether I feel ready or not, now it's on to the next string of holiday festivities, family gatherings, and food.
I love lots of things about Christmastime, but one of the most meaningful traditions of the season for me is setting up the Christmas tree in our home. We spend an entire evening playing holiday music, eating snacks and opening all the boxes of decorations with the kids. I always enjoy revisiting all the handmade, special ornaments (most of them made at school or at church) that have been gifted to us by our kids each year so far. I also get to retell the stories behind the personalized, first Christmas ornaments we chose for each of my babies back when they were newborns (even the 11-year-old even likes to hear these stories again!).
Our Christmas tree has been set up for a couple of days now and like every year before, the kids will take turns switching the lights on each evening. After the tree lights are glowing, we'll turn down all the other fixtures in the house just so we can all take comfort in the romantic, spectral warmth radiating from that glittering tree. Without a doubt, the Christmas tree is a magical part of the season for the kids and for me it has a relaxing and thought-provoking presence. 
Late into the evening, I find myself thinking of things related to the season, like presents to buy for family, family and friends to visit, and my upcoming Christmas day menu. When it comes to that impending menu, I've had (at least) one persistent thought… there's no way I'm serving green bean casserole on Christmas day! (Okay, I wish it was a deeper thought, but it's the truth. Nope, not serving it.) Evan may be a little upset by this, as he loves the classic Campbell's soup recipe for green bean casserole, but sometimes you just have to rip these habitual holiday staples off the menu like a bandage, y'all! 
I'll be serving these easy and tasty braised mushrooms and peas instead, and I just know they will go perfectly with a glazed ham, cheesy, scalloped potatoes, broccoli salad and scratch-made dinner rolls.  It's gonna be great change of pace, I just know it! 
What's traditional on your Christmas Day menu?
Here's a pic of my kids earlier this week by that magical, luminous, thought-provoking Christmas tree I was writing about. Can't you just feel the excitement in the air, y'all? 🙂
I've got this dish all dressed up for the holidays in this post, but really it's a great side dish any day of the year…especially for Easter! So, be sure to Pin this one for later, y'all!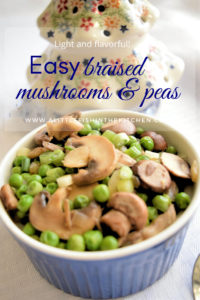 Easy Braised Mushrooms and Peas
Course: Sides
Cuisine: American
Difficulty: Easy
These braised peas and mushrooms are a simple yet flavorful side dish! They will pair up nicely with a weekday chicken dinner or a fancy holiday ham.
Ingredients
1-1/2 tablespoons butter

1 package (10 oz) sliced white button mushrooms

1 package (10 oz) sliced baby bella or crimini mushrooms (they are the same thing)

1/3 cup yellow onion, coarsely chopped

1 1/2 cup frozen peas

2 tablespoons water (if needed)

2 tablespoons organic soy sauce

salt and pepper, to taste (freshly cracked black pepper, if you prefer)

2-3 green onions, finely sliced for garnish
Directions
In a colander, clean and rinse sliced mushrooms with water. In a large skillet over medium heat, heat butter and then add in the sliced mushrooms and chopped onion. Add a just a dash or two of salt to the skillet to cause the veg to sweat and produce more liquid in the pan. 
Saute mushrooms and onions for 3-4 minutes and then add frozen peas to the skillet. If more liquid is needed, add the two tablespoons of water. Cook all vegetables an additional 2- 3 minutes or until all ingredients are heated through. 
Remove skillet from the heat and if there is a lot of excessive liquid, use a colander to drain some of it out. Return drained veg to the pan and toss in the soy sauce and season to taste with additional salt and black pepper. Transfer braised mushrooms and peas to a serving bowl.
Top with sliced green onions for garnish, serve warm and enjoy!
Notes
Recipe as published on A Little Fish in the Kitchen at www.alittlefishinthekitchen.com. All content is owned by Marcelle G. Bolton. Please contact the author for permission to republish.
Sign up here to receive all of my posts right to your inbox! Subscribe now and never miss a new recipe!