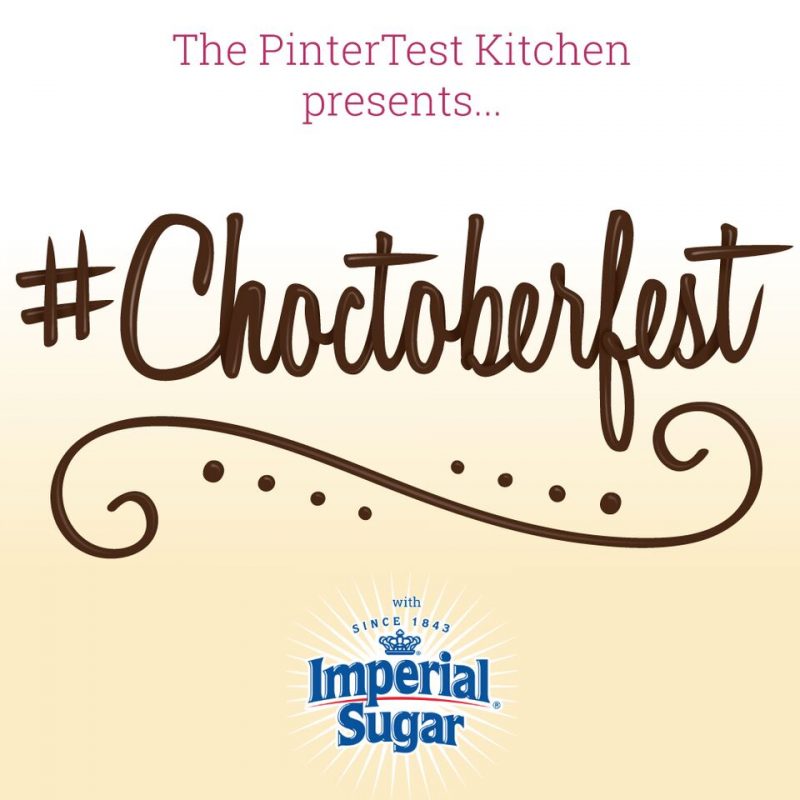 Hi everyone! I've been so excited for this week to get here to share about this big event! This will surely be one of my favorite weeks of the year because #Choctoberfest is finally here!

I know many of you all are wondering what this post and #Chocotoberfest event are all about, so I now I will get you all up to speed! From now until the end of the week, I am joining forces with over 100 other bloggers from around the world to post delicious chocolate recipes. Throughout this entire week, #Choctoberfest bloggers will be celebrating all things chocolate – milk, dark, white, bittersweet, semi-sweet, and cocoa!
Also there is this awewome prize pack we are raffling off at the end of the week! This #Choctoberfest prize pack is a combination of awesome products from our generous sponsors. Scroll down to learn how you can enter to win. One lucky winner will receive the following:
A 100-Piece Cake Decorating Kit from our blog sponsors The PinterTest Kitchen. This set includes a cake turntable, piping bags, piping tips, flower nozzles, scapers, and more.
An Instant Pot and a 40-Pound Case of Granulated Sugar from our gold sponsor Imperial Sugar. Imperial Sugar provides high-quality sugar and sweetener products and over 100 years of time-tested recipes. Sweet things happen when people come together in the kitchen, and that's why Imperial Sugar has been at the heart of family traditions and celebrations for generations.
Coconut Oil and Chocolate Silk Greens from our silver sponsor Barlean's, your trusted source for chocolatey goodness superfood nutrition. Barlean's has a commitment to staying ahead of the innovation curve in providing the absolute highest quality product.
A Chocolate Gift Pack from our silver sponsor Forte Chocolates. You'll receive 12 of their most popular chocolate bars. With Forte Chocolates, you can celebrate life through chocolate. They also have a line of chocolate developed specifically to use in savory recipes.
A Chocolate Gift Pack from our silver sponsor Divine Chocolate. You'll receive one of each of their baking bars, a white chocolate bar, and their top 5 everyday bars. Divine Chocolate is the only Fairtrade chocolate company in the world that is owned by cocoa farmers. Their baking bars are also a delicious vegan option.
A Selection of Sprinkles from our silver sponsor Sprinkle Pop. Sprinkle Pop's bespoke sprinkle creations are one of a kind, just like you! At Sprinkle Pop, you can also order a custom sprinkle mix; there isn't a sprinkle mix that you can dream up that they can't create.
That's a prize pack worth over $400! Open worldwide, except where prohibited. Must be 18+ to enter (21+ in some locations). See terms and conditions for more details.
To enter, simply follow our sponsors using the widget below. You can gain additional entries by following me and the other participating bloggers. A winner will be drawn on October 21, 2018 and contacted via email. Good luck
!
Don't forget to come back to my blog for more chocolatey goodness between now and October 20!! There will also be links to the delicious recipes bloggers have cooked up using Imperial Sugar, Barlean's, Forte Chocolates, Sprinkle Pop, and Divine Chocolates products. A huge shout out to all of our #Choctoberfest sponsors! You can also watch Instagram and Facebook to find out more about about all of their products.
Check out our 2018 participating bloggers:
The PinterTest Kitchen ♥ 2 Cookin Mamas ♥ 27th and Olive ♥ A Day in the Life on the Farm ♥ A Kitchen Hoor's Adventures ♥ A Little Fish in the Kitchen ♥ addicted 2 recipes ♥ Amy's Cooking Adventures ♥ An Affair from the Heart ♥ April GoLightly ♥ At the Table with R and R ♥ Baking Sense ♥ Blade & Barbell ♥ Blogghetti ♥ Body Rebooted ♥ Books n' Cooks ♥ Bottom Left of the Mitten ♥ Canning and Cooking at Home ♥ Cheese Curd In Paradise ♥ Chef Sarah Elizabeth ♥ Cindy's Recipes and Writings ♥ Coconut & Lime ♥ Cook With Renu ♥ Cook's Hideout ♥ Cookaholic Wife ♥ Cookie Dough and Oven Mitt ♥ CopyKat.com ♥ Daily Dish Recipes ♥ Everyday Eileen ♥ Fairyburger ♥ Faith, Hope, Love, & Luck Survive Despite a Whiskered Accomplice ♥ Family Around the Table ♥ Fix Me a Little Lunch ♥ Frankly Entertaining ♥ Frugal & Fit ♥ Get the Good Stuff! ♥ Growing Up Gabel ♥ Hardly A Goddess ♥ Hezzi-D's Books and Cooks ♥ Home Sweet Homestead ♥ House of Nash Eats ♥ Intelligent Domestications ♥ jenniferbakes ♥ JoAnn's Food Bites ♥ Join Us, Pull up a Chair ♥ Jolene's Recipe Journal ♥ Jonesin' For Taste ♥ Karen's Kitchen Stories ♥ Kate's Recipe Box ♥ Kelly Lynn's Sweets and Treats ♥ LeMoine Family Kitchen ♥ Life on Food ♥ Life, Love, and Good Food ♥ Lisa's Dinnertime Dish ♥ Little House Big Alaska ♥ Long Distance Baking ♥ Maria's Mixing Bowl ♥ Moore or Less Cooking ♥ Must Love Home ♥ Norine's Nest ♥ Our Good Life ♥ Our Sutton Place ♥ OVENTales ♥ Palatable Pastime ♥ Prettysweetblog ♥ Red Cottage Chronicles ♥ Restless Chipotle ♥ Reviews, Chews & How-Tos ♥ Sarah Cooks the Books ♥ Sarah's Bake Studio ♥ Savory Moments ♥ Seasonal and Holiday Recipe Exchange ♥ Seasoned Sprinkles ♥ Seduction In The Kitchen ♥ Simple Family Crazy Life ♥ Simply Inspired Meals ♥ Snacks and Sips ♥ Soulfully Made ♥ Stephie The Happy Mom ♥ Sumptuous Spoonfuls ♥ Sweet Coralice ♥ Take Two Tapas ♥ Tampa Cake Girl ♥ That Recipe ♥ The Baking Fairy ♥ The Beard and The Baker ♥ The Food Hunter's Guide to Cuisine ♥ The Gingered Whisk ♥ The Heritage Cook ♥ The Mad Scientist's Kitchen ♥ The Olive Blogger ♥ The Pajama Chef ♥ The Redhead Baker ♥ The Saucy Fig ♥ The Spiffy Cookie ♥ The Weekday Gourmet ♥ This is How I Cook ♥ Trampling Rose ♥ Turnips 2 Tangerines ♥ Walking Fruitfully ♥ Wendy Polisi ♥ Wildflour's Cottage Kitchen ♥ Zesty South Indian Kitchen
Be sure to click the link and follow me by email so you'll never miss a post! xoxo – M
Subscribe to A Little Fish in the Kitchen by Email