Note: Originally published on August 24, 2018, updated on November 8, 2022. A Pin image and link to the recipe video were added. Also, the serving amount listed in the recipe was adjusted.
I've been all about hearty grains lately. My crew loves dishes made with comforting white rice, but I've been trying to increase our nutritional game a bit, so I've been mixing grains such as bulgur, barley and brown rice into the menu rotation more regularly.
For my finicky kids, the least bothersome of these menu changes have been recipes using brown rice. In their minds, rice is rice…. works for me because it's definitely not always that easy! Bulgur and barley, however, are taking a bit more time for the home front to warm up to. As for Evan and I, we enjoy them all and we even like making sweet brown rice or barley for breakfast to take a break from our overnight oat addiction.
These days I'm not pushing a new food agenda too zealously on to my kids. At least they liked one out of three new menu items I've put on the table recently… that's not too bad. I've learned to be patient with them when it comes to trying new things at meal time and I definitely pick my battles on the subject of new foods. They may not appreciate some of the "weird" ingredients I serve right away, but repeated exposure works wonders for my kids and they will eventually try a bite (I just know it!!).
On Sunday evenings, I've been cooking a few cups of brown rice and then keeping it in the fridge to use through the week. This little bit of food prepping has really been helping me out too because brown rice takes a bit longer than white rice to cook on the stove top. For the kids, I'll warm some rice up and mix it with a little bit of butter, salt and pepper and they love it as a simple side dish to go with whatever protein we've prepared.
But, sometimes I'll make a really big batch and I'll mix it with some of my favorite fixings, like I did in this spicy southwestern brown rice salad! I combined cooked brown rice, lots of veggies, chopped cilantro and black beans with a light lime and olive oil dressing. With all it's vibrant, colorful vegetables, I must say that this salad is pretty easy on the eyes and it packs a good punch of both flavor and nutrition too.
Evan and I have been putting a lot of effort into meal-prepping lately, so we made quite a large batch of this salad and we'll enjoy eating it with lunch and dinner for the next few days. So, please notice that this recipe makes a huge batch and if you will need less, be sure to use half the amounts on the ingredients list.
Pin this recipe for later!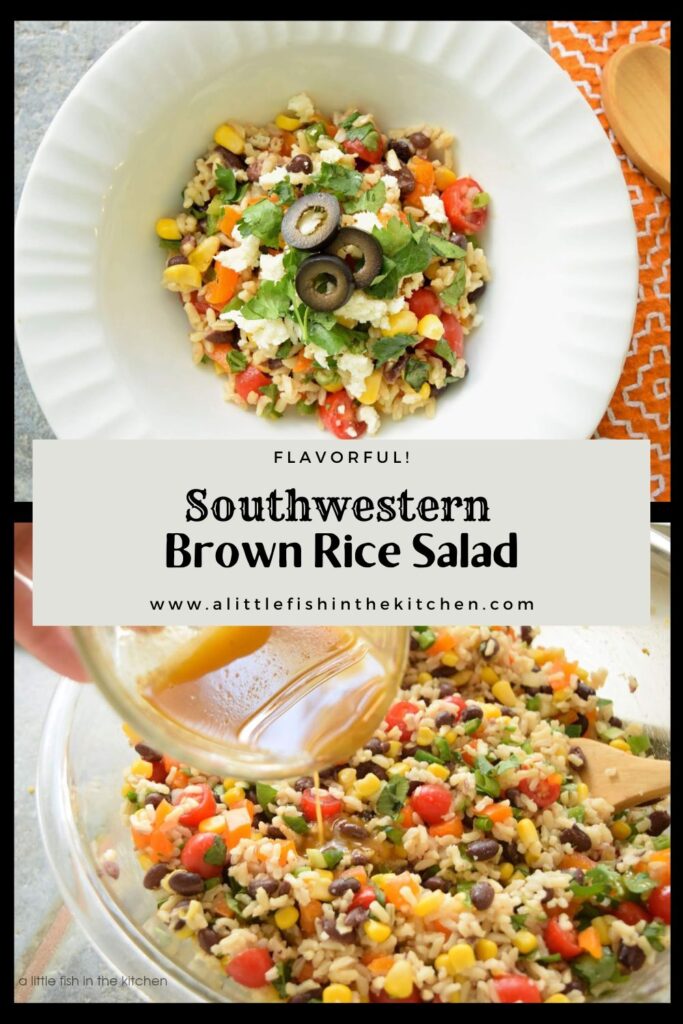 Be sure to sign up here to have all of my new posts sent right to your inbox! Subscribe now and never miss a new recipe or an update!!
Check out one of my latest videos and subscribe to my YouTube channel for more fresh recipes!!
Southwestern Brown Rice Salad
Course: Sides
Cuisine: American
Difficulty: Easy
This Southwestern Brown Rice Salad is a flavorful make-ahead dish that is healthful, gluten-free, vegetarian. It also keeps very well in the fridge for several days. Share this at your next potluck or family barbecue! This recipe make a large batch of this rice salad, so please adjust the amount of ingredients according to your needs.
Ingredients
For the dressing

1/4 cup extra virgin olive oil

2-3 tablespoons lime juice (to taste)

1 tablespoon honey

1/2 teaspoon ground cumin

1/2 teaspoon chili powder

1/8 teaspoon garlic powder

1/4 teaspoon salt (to taste)

1/2 teaspoon pepper

For the salad

4 cups cooked brown rice *see notes below

1 medium orange or red sweet pepper,
seeded and finely chopped

2 medium jalapeno peppers,
seeded and finely chopped

1 cup cherry tomatoes, halved

1 can (15 oz) sweet corn, drained

1 can (15 oz) black beans,
drained and rinsed

3 green onions, finely sliced

1/2 cup fresh cilantro or Italian parsley leaves
coarsely choppped

Optional ingredients for garnish

crumbled Mexican Queso Fresco

coarsely chopped fresh cilantro (or Italian parsley)

fresh jalapeno slices

sliced black olives

cubes of fresh avocado
Directions
First prepare your dressing. Using a small whisk, mix all dressing ingredients together in small bowl and then set it aside so the flavors can marry a bit.
Next, in a large mixing bowl, combine cooked rice and all the prepared veggies. Stir well. Stir the dressing and then pour it over the rice salad. Gently stir until the salad is evenly coated with dressing. Cover and chill salad for 20-30 minutes before serving.
Stir salad, taste and adjust seasoning with salt and pepper as necessary. Top with the garnish ingredients of your choice and serve. Enjoy!
Recipe Video
Notes
Use 1-1/2 cups dried rice cooked according to package directions to make 4 cups cooked rice. Be sure to salt the water it cooks in! Or use use convenient frozen, steamable bags of brown rice.
Recipe from A Little Fish in the Kitchen www.alittlefishinthekitchen.com. All content is owned by Marcelle G. Bolton. Please contact the author for permission to republish.