I believe most people across the U.S. are familiar with some version the popular (dare I say 'famous'?) Tex-Mex cheese dip called chili con queso (translated: "peppers with cheese").  I'm also pretty confident that most Texans learned to make this dish with a (much-adored) tomato and green chili mixture that comes in a can (brand name sorta rhymes with 'mo-tel'). Like most folks in my home state, I also love this store-bought mixture of tomatoes and green chilies and I use it often to lend it's special flavor-magic to some of our most favorite family dishes.
But, nowadays when I make our favorite version of chili con queso I rarely use those canned tomatoes and chilies anymore.  I recently experimented and made a batch of queso with fresh tomatoes, fresh jalapeños, fresh onions, cilantro and a couple of of smoky spices and I've never looked back.  
A warm bowl of this delicious queso blanco dip will make a wonderful addition to the table of finger foods at your next barbecue or family party. Of course, we love to eat this cheesy dip as an appetizer or snack by the dip-full with crispy tortillas chips and fresh veggies, but it's a perfect topping for plates of nachos, crispy tacos, tostadas and even burgers too! Those types of easy suppers make the world go around for my family, especially on fun-filled summer nights.
Summer officially starts next week for my crew and that last day of school can't get here fast enough for this mama! We are definitely ready for more rest and bunches of summer fun… and you can bet we'll be serving this dip often over the next few months.
I sure hope you enjoy this spicy queso blanco dip as much as we do!
Happy snacking, y'all!
Wouldn't you like to stay a while? Subscribe to receive all of my posts right to your inbox! Sign up now and you'll never miss a delicious post!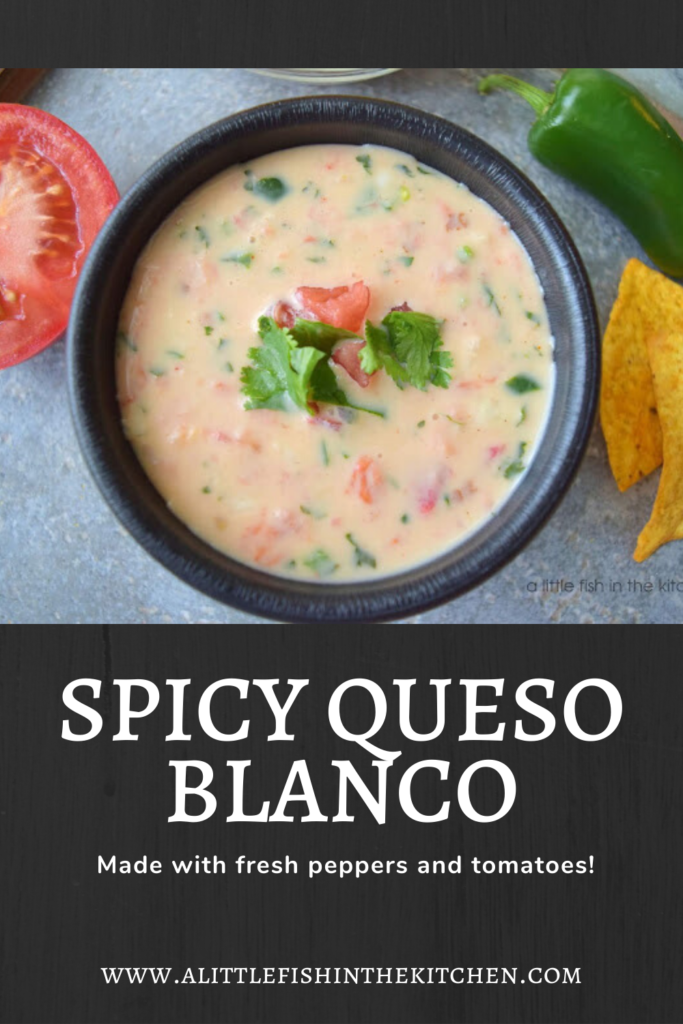 Spicy Queso Blanco (White Cheese) Dip
Course: Snacks
Cuisine: American
Difficulty: Easy
Taste the difference in this homemade spicy queso blanco! It will make a delicious appetizer for your next family get-together or add to the toppings bar next Taco Tuesday!
Ingredients
16 oz (1 lb) white American cheese, cut into 1-inch cubes (get this from your grocery store deli)

1/2 lb Monterrey Jack cheese, cut into 1-inch cubes

1 cup milk

2 medium vine-ripened tomatoes, seeded and coarsely chopped

2 medium fresh jalapeño peppers, mostly seeded and finely chopped (leaving a few seeds will add a little heat to the dip, remove all the seeds from the peppers for mild dip)

1/3 cup sweet, yellow onion finely chopped

1/3 cup fresh cilantro, stems removed and leaves coarsely chopped

1 teaspoon cumin

1 teaspoon teaspoon Ancho chile powder

extra chopped tomato, onion and cilantro for garnish, if desired
Directions
Place cubes of cheese and milk in a medium-size sauce pan. Melt cheese over medium heat, stirring very often until smooth. 
Stir in spices, chopped vegetables and cilantro until dip is well-combined. Turn off the heat and transfer warm dip to serving bowl or small slow cooker. 
Garnish dip with reserved chopped tomatoes, onions and cilantro, if desired. Serve with corn chips and fresh veggies. Enjoy!
Notes
Recipe as published on A Little Fish in the Kitchen at www.alittlefishinthekitchen.com. All content is owned by Marcelle G. Bolton. Please contact the author for permission to republish.