Lately, we have been all about the small bites at my house. Our schedules have been super hectic through the week and dinner just isn't ready as early as it used to be on weeknights.
As tempting as it is, I refuse to fall back into the habit of regularly hitting the drive-thru windows! Ok, to be perfectly honest, some nights the crazy schedule wins and we grab a bucket of chicken or a bag of tacos. But, mostly I still make an honest effort to cook a healthy dinner for my family, even when we are short on time.
So, I had to find a way to take the edge off of the impatient, cranky, hungry people (both big and little) I live with until dinner is done. I generally just need about 30 – 60 fuss-free minutes until that casserole or chicken comes out of the oven or the frying pan!.
The answer to our weeknight time crunch was kind of an obvious one: appetizers!
Now, my mother used to hold on to a steadfast rule against snacking before dinnertime, but I see things a very different way ( plus whining drives me bananas!). I can earnestly testify that offering just a simple variety of pre-dinner snack foods sure keeps people smiling while they wait…and when I say simple, I mean simple.
I tend to offer easy peasy starters like chips and salsa, fruit and cheese, crackers and cheese, veggies and ranch dressing and pita chips and hummus… anyhoo, you get the picture. But, every once and a while I'm organized enough to offer a munchie, like this shrimp and olive spread, that really raises some eyebrows and shakes things up!
I knew we had some long days on the schedule last week, so I made this flavorful spread a day ahead and refrigerated it for the next evening. Once my hungry crew came pouring through the door, all I needed to do was add crackers and few lemon slices and she was ready to roll.

Just F.Y.I., this was one appetizer I had to chase Evan away from because he seriously wasn't going to have room for dinner!
Happy snacking y'all!
Remember to Pin this recipe for later!!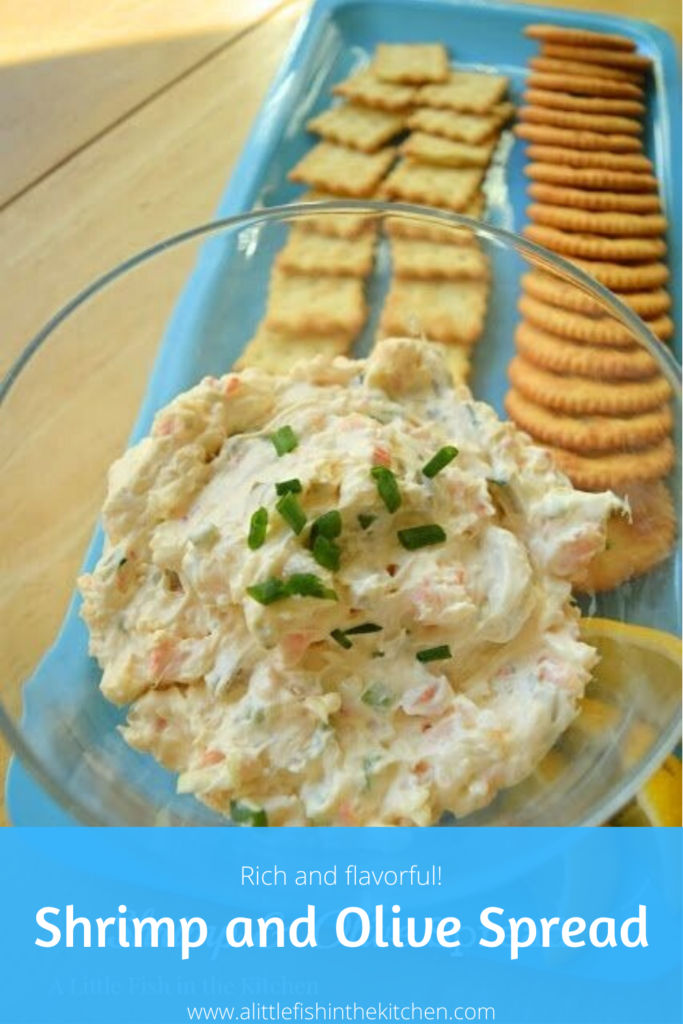 Wouldn't you like to stay a while? Subscribe to receive all of my posts right to your inbox! Sign up now and you'll never miss a delicious post!
Shrimp and Olive Spread
Course: Appetizers, Snacks
Cuisine: American
Difficulty: Easy
This simple shrimp and olive spread is perfect served with melba toasts, crackers or fresh veggies!
Ingredients
1 (8 oz) package cream cheese, room temperature

7 oz. cooked shrimp, shells removed and coarsely chopped

6-8 pimiento stuffed green olives, finely chopped

2 green onions, thinly sliced or chopped

2 tablespoons mayonnaise

1 teaspoon lemon juice

1/2 teaspoon Worcestershire sauce

1/2 -1 teaspoon hot sauce (to taste, I used Cajun Chef brand)

1/4 teaspoon garlic powder
Directions
Mix all ingredients together and stir well. Cover and refrigerate for at least 30 minutes or until read to serve.
Serve with assorted crackers or snack breads. Enjoy!
Notes
Recipe as published on A Little Fish in the Kitchen at www.alittlefishinthekitchen.com. All content is owned by Marcelle G. Bolton. Please contact the author for permission to republish.