When I've got the time, I love to bake two-layer cakes or large sheet cakes complete with homemade frosting or a shiny glaze on top. But, more and more often simple one-layer cakes, like this cocoa-spice cake, are becoming one of my favorite things to serve for an after dinner sweet treat.

Oh trust me, I still wreck my kitchen and bake and frost more elaborate cakes whenever time permits! However, when time is short, what's most important to me is serving my family something baked from scratch every chance I get. Now, don't get me wrong, I'm not at all above using boxed cakes mixes from time to time or picking up a pound cake from the grocery store bakery (one of my all-time favorite dessert short-cuts!) to dress up in a trifle to save a few minutes in the kitchen too.
But, for me personally, serving them homemade desserts make me the happiest. I believe homemade is best because I make sure they are being served quality ingredients in their food without a whole bunch of chemical preservatives or loads of unnecessary sugar mixed in. This simple cocoa-spice snack cake has become a favorite of mine because it takes very little time to make and it uses ingredients that are typically pantry staples in my house. I'm pretty sure these ingredients are pantry staples for most folks too.
For topping this cake, I prefer a food sprinkle of powdered sugar or I might serve it with whipped cream as. I love those two lighter, time-saving alternatives over making a glaze or icing for this recipe. (And it looks so pretty with the powdered sugar on top too!). But, if you wanted to make a small portion of a vanilla or chocolate glaze for serving you most certainly can.
Anyhoo, the moral of the story is that a delicious cake that 's made from scratch doesn't have to be difficult to be delicious! I hope you give this time-saving and flavorful little cake a try. There will be more snack cake recipes to come in 2018 here on Little Fish… they're a new fave!
Don't forget to follow me by email so you never miss a post!
————————————————————————————————————————–
Simple Cocoa-Spice Cake                     printable recipe
Prep Time: 15 min                                   Cook Time: 30 min                        Servings: 8
1/4 cup salted butter, melted
1/4 unsweetened cocoa powder
3/4 unsweetened cinnamon applesauce
1 large egg, slightly beaten
1-1/4 cup all-purpose flour
3/4 cup sugar
1/2 teaspoon baking powder
1 teaspoon ground cinnamon
1/4 teaspoon ground nutmeg
1/4 teaspoon ground ginger
1/2 cup finely chopped pecans (optional)
1. Preheat the oven to 350 degrees. Prepare a 9-inch cake pan with non-stick cooking spray, line the bottom of the pan with a parchment paper round and set the pan aside.
2. In a small bowl, combine melted butter, cocoa powder, applesauce and the egg then set the bowl aside.  In a large mixing bowl, combine the flour, sugar, baking powder, spices and chopped pecans, if included and stir until well-mixed.
3. Pour the cocoa mixture into the flour mixture and stir with a wooden spoon until the dry ingredients are just moistened. The batter will be thick. Spread batter evenly into prepared cake pan. Bake for 25-30 minutes or until a toothpick inserted into the center comes out clean. Cool in pan on a rack.
4. Place cake on plate or cake stand and generously sprinkle with powdered sugar through a sifter or serve with whipped cream. Garnish with fresh fruit and serve with fresh-brewed coffee or hot tea.
5. Enjoy!
Sunday Supper Month
January is National Sunday Sunday Supper Month! I love participating in Sunday Supper Movement events because I believe, as we all do, that Sunday is the perfect day of the week to slow down and invest a bit more time into a good, nourishing family meal. It would be so wonderful for families to embrace the Sunday Supper message, unplug and sit down at the table together. Dinner time can be a perfect opportunity to catch-up with your family, even if it's just one day a week, especially in today's hectic pace. We would love to have you join us in the mission to bring back Sunday Supper by taking this simple Sunday Supper pledge!
Today we are sharing some delicious recipe suggestions to help you to make dinnertime memorable for your family for many weeks to come!
Sunday Supper Recipes
Super Sunday Entrees
Sweet Sunday Desserts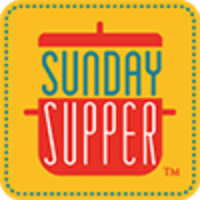 The Sunday Supper Movement is committed to bringing our readers delicious recipes that encourage them to gather and eat together around the family table. Search for your favorite ingredients on our Sunday Supper website. Also check out the Sunday Supper Pinterest boards for plenty more ideas and inspiration.