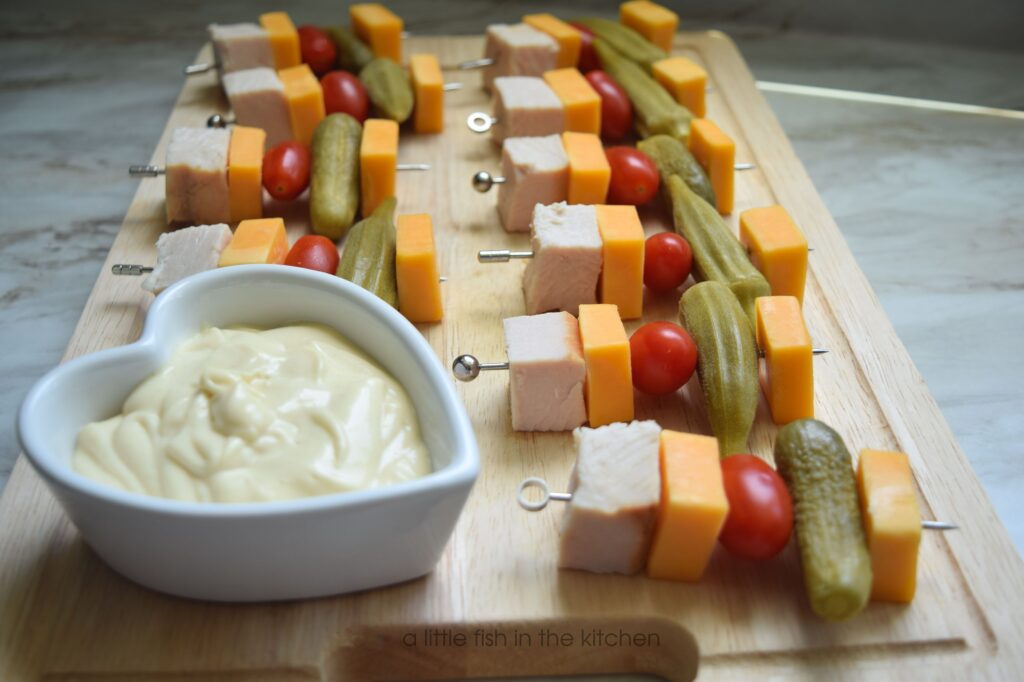 Lately, these easy Smoked Turkey and Cheddar Kabobs are one of my favorite things to make when we entertain for any occasion. There are a few reasons I love them so much, but I'll start with the obvious ones: they are eye-catchingly colorful, festive, and they are super quick and simple to make!
Also, I don't have to turn on a single kitchen appliance to make these little goodies, so it's not necessary to heat up at all the kitchen when I make these. Obviously, this characteristic alone puts these Smoked Turkey and Cheddar Kabobs at the top of the summertime appetizer favorites for me!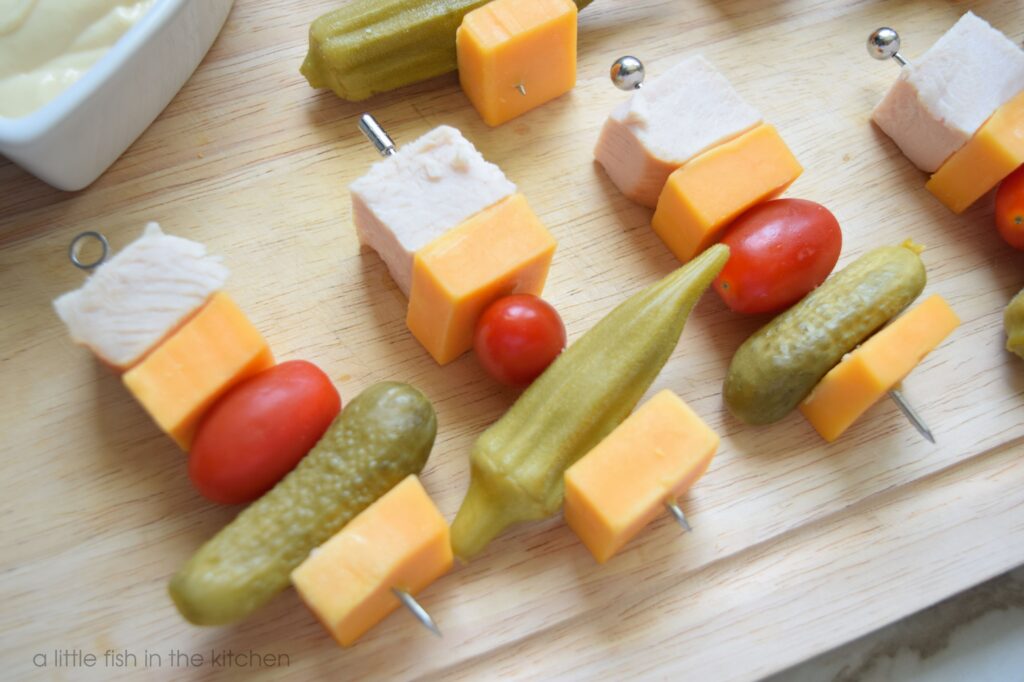 Yet, another reason I love them so much is that they work for feeding a crowd that may have an array of dietary restrictions as these delicatessen-style appetizers are low in carbs and gluten-free.
Of course, there is a small amount of honey used to sweeten the honey mustard dipping sauce (that is a delicious menu partner to these kabobs, so don't skip it!). However, of the carb count needs to be lower, the honey can be replaced with a small amount your favorite sugarless sweetener to make this a completely sugar-free recipe.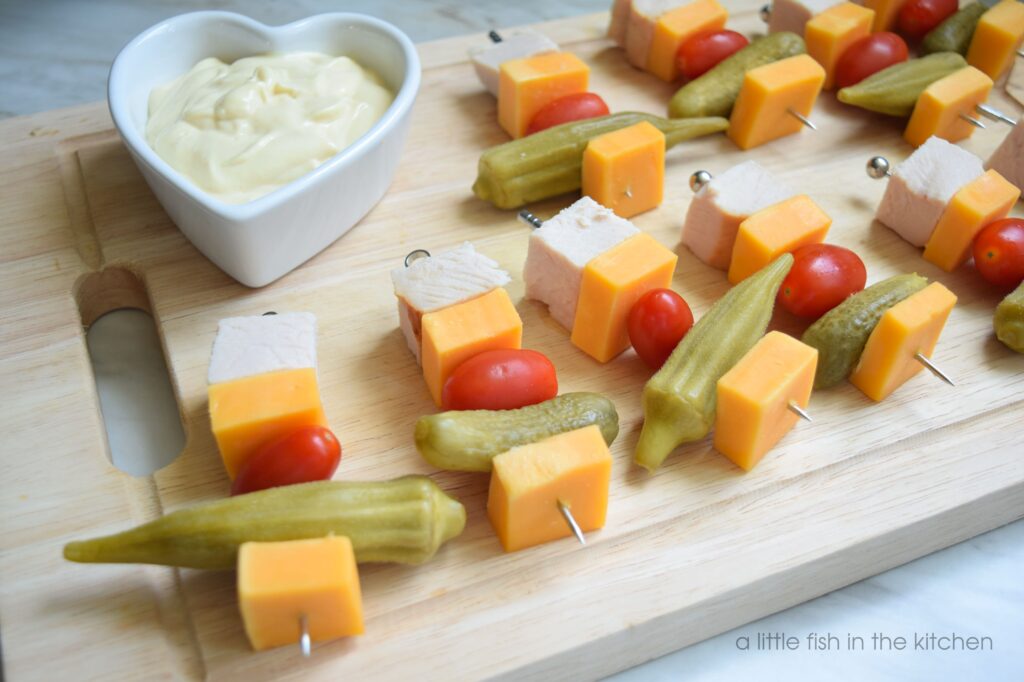 These Turkey and Cheddar Kabobs are a very kid-friendly menu item too. Smoked turkey deli-meat, cheddar cheese, sweet cherry tomatoes, and petite gherkin pickles are common lunchbox ingredients, and most kiddos will dig right in when these are on the appetizer table.
I like to use a combination of pickled okra and dill gherkins when I make these just to add some variety to the spread. Pickled okra is a much-loved addition to relish trays here in the South, but feel free to just use the petite gherkins with your kabobs if it will be more pleasing to your tiny guests!
Large stuffed Spanish olives or black olives would be perfect garnishes to add on the skewers too, if you wanted even more of an assortment on the board.
How will make your kabobs?
This week I'm celebrating #BrunchWeek with a few of my very talented blogging friends, so please scroll down and check out their Monday brunch recipes, I know you'll be glad you did! The recipe for these easy and delicious Turkey and Cheddar Kabob is my first contribution to this event, but I have two more recipes coming up on Wednesday and Friday for this event! See you then, and happy eating, y'all! – M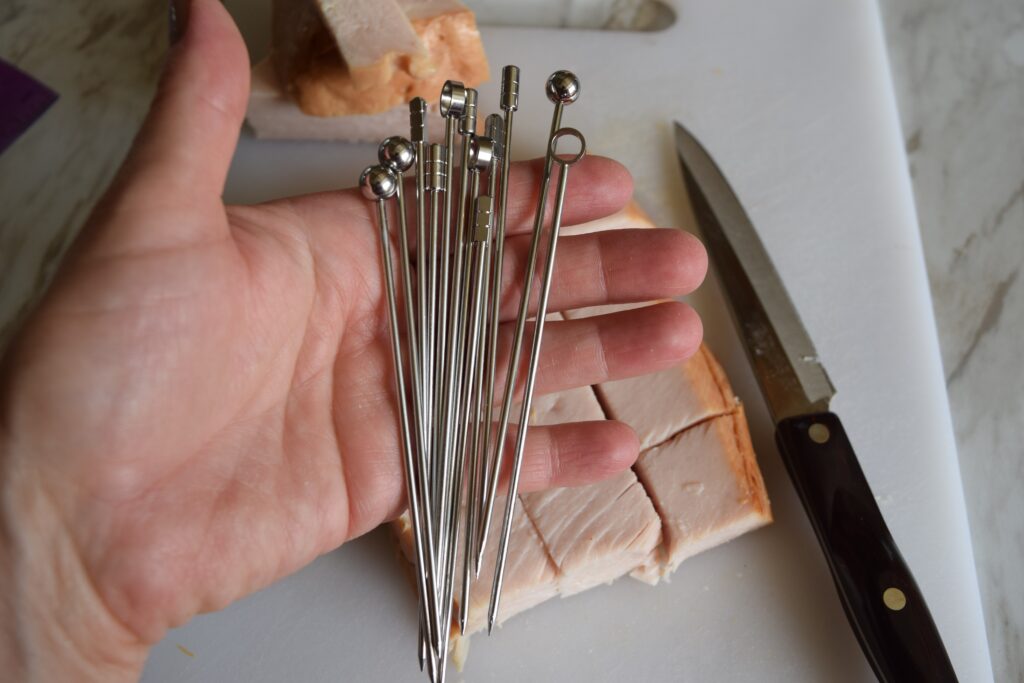 I love this eye-catching, reusable set of 12 cocktail/appetizer picks I purchased on Amazon, you can check them out here: https://amzn.to/39aIJBR
More appetizer recipes you might enjoy
Please share this recipe on Pinterest!
Please watch one of my latest cooking videos! Be sure to subscribe to my YouTube channel for even more recipes and live streams!
Please enter you email address below to have all my new posts sent right to your inbox! Subscribe now and never miss a recipe or an update!
Monday #BrunchWeek Recipes
Beverages
Appetizers and Salads
Breads, Grains, and Cereals
Egg Dishes
Main Dishes
Desserts
Smoked Turkey and Cheddar Kabobs with Honey-Mustard Dipping Sauce
Course: Brunch, Lunch
Cuisine: American
Difficulty: Easy
These Smoked Turkey and Cheddar Kabobs are super simple to make, and these colorful appetizers will work for any occasion or season.
Ingredients
1 pound, thick slice of deli smoked turkey,
cut into 3/4 inch or 1 inch cubes

1 (8 oz) package of Cheddar cheese, cut into 1 inch pieces at 1/2 inch thickness (I used two kinds of cheeses, sharp and mild reduced fat Cheddar)

1 cup cherry or grape tomatoes

1 (16 oz) jar dill gherkin pickles

1 (16 oz) jar mild pickled okra

18-20 (4-inch) appetizers skewers


Honey Mustard Dipping Sauce

3/4 cup light mayonnaise

3 tablespoons Dijon mustard

2 tablespoons honey

pinch each, salt and pepper (optional, to taste)
Directions
Thread 1 of each ingredient onto appetizer skewers, alternating the use of gherkins or pickled okra on each kabob (ex. turkey, cheese, tomato, okra or pickle, cheese). Arrange the kabobs on the serving plate or platter. (See notes below)
Cover with plastic wrap and chill for 30 minutes or up to 24 hours. Serve turkey and cheddar kabobs with Honey Mustard Dipping Sauce.
Enjoy!
Recipe Video
Notes
Pat pickled okra and gherkin pickles dry with paper towels before assembling the Turkey Cheddar Kabobs. This will help prevent discoloration and sogginess of any other ingredients.
Recipe from A Little Fish in the Kitchen blog at www.alittlefishinthekitchen.com. All content is owned by Marcelle G. Bolton. Please contact the author for permission to republish.