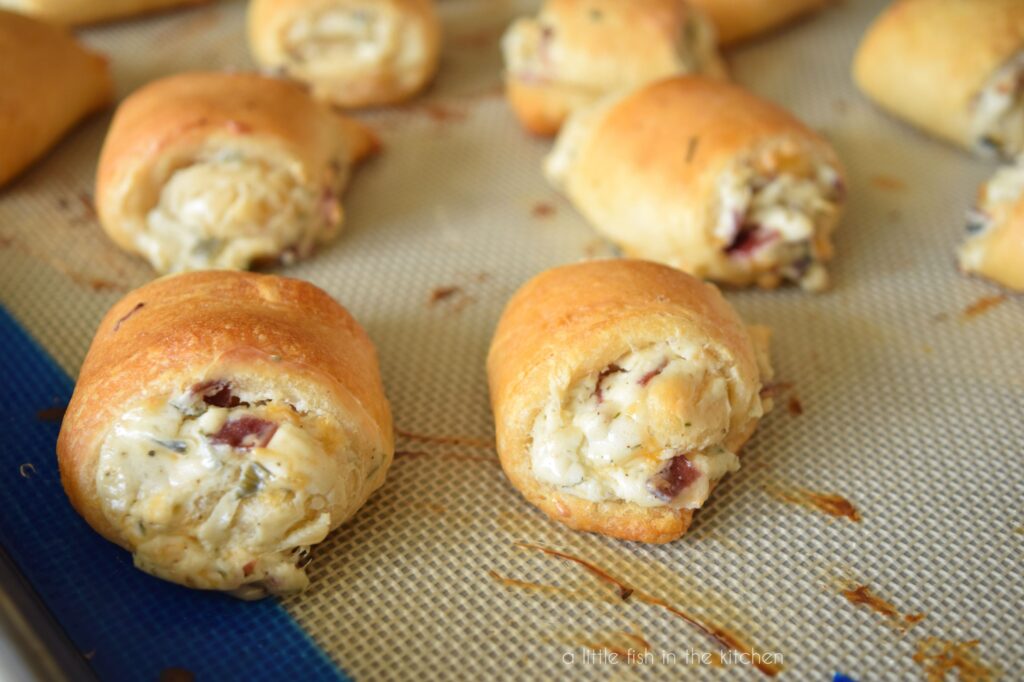 I once heard a Southern celebrity chef was quoted as saying "Give a girl a can of crescent rolls and she'll make a party!" That statement can definitely apply accurately to this Texas girl. I love me some crescent roll appetizers and snacks! Ok, well I probably won't make an actual party, you know, with extra people, I don't want to clean up a mess, but I'm all about a flavor party on my plate!
If I'm given a can of crescent roll dough I do typically whip up a batch of these sinfully delicious Easy Crescent Roll Cinnamon Rolls or maybe I'll make a comforting casserole like this Easy Chicken Pot Pie Bubble Up Casserole for supper.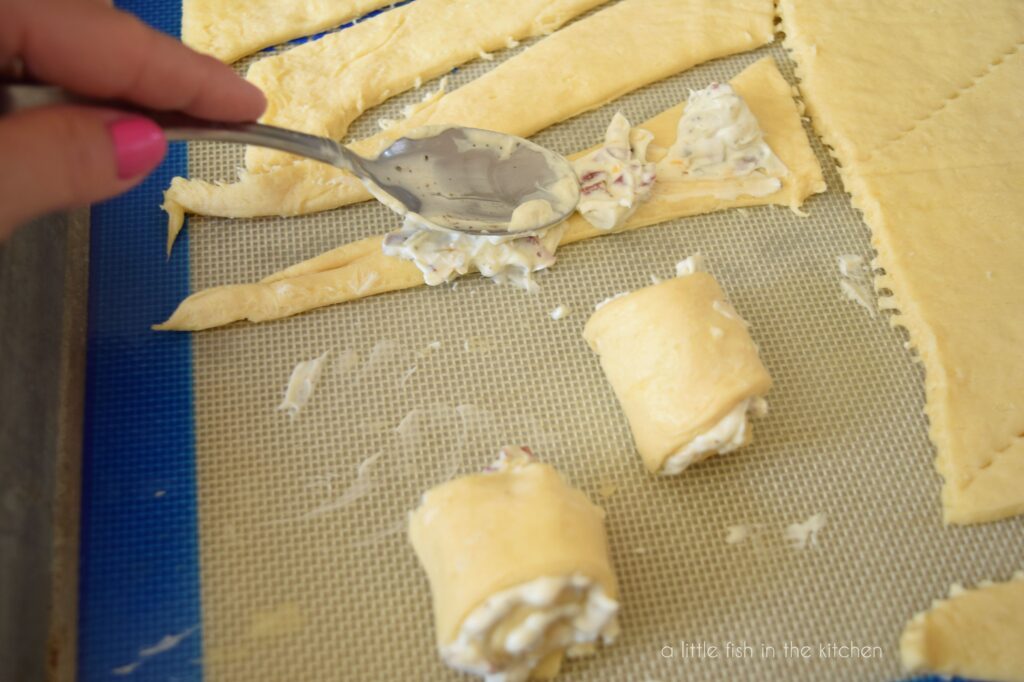 Lately, one of my new favorite ways to use convenient crescent roll dough is to make delicious combinations of flavored cream cheese with meat or fruit to create quick roll ups. Recently, I've made some sweet and fruity flavor combinations that we really enjoy on Sunday mornings for breakfast.
Soon, I'll be sharing a few of those sweet and fruity recipes here too, and I just know you'll want to enjoy those with some fresh-brewed coffee like we do. However, today I'm sharing one of my favorite savory filling combinations and the recipe for these fancy-sounding Cheesy Chive, Onion and Bacon Roll Ups!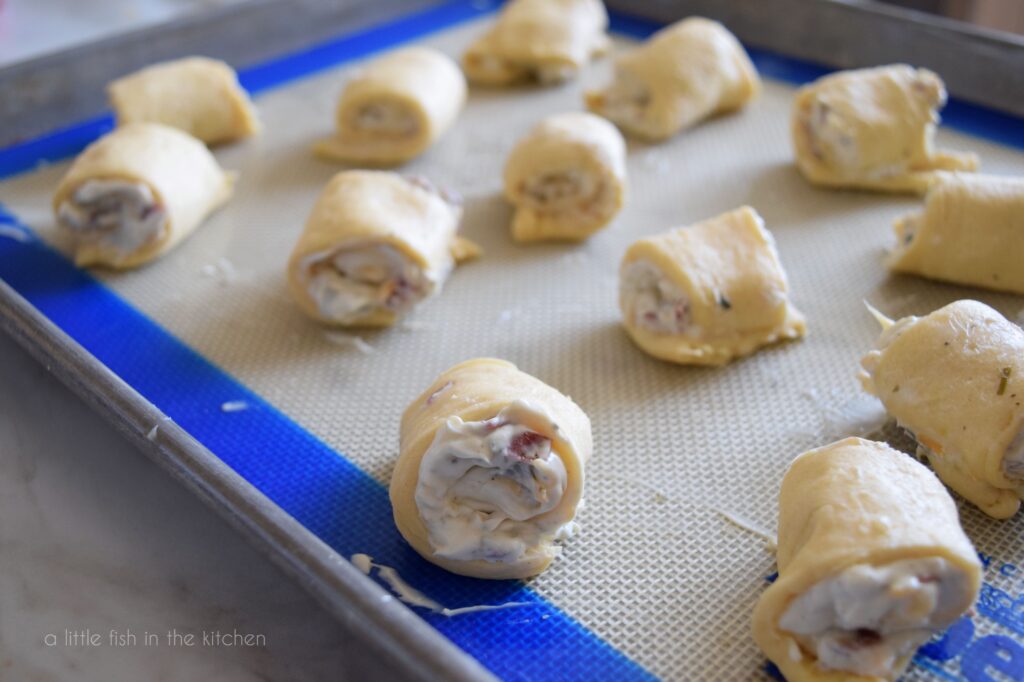 How to make cheesy chive, onion and bacon roll ups
All that is needed to create a pan full of these petite starters is a can of crescent roll dough, chive and onion-flavored cream cheese spread, shredded cheddar cheese, bacon bits and a dash of ground black pepper. The prepared pastry triangles are cut in half, which doubles up on the servings from each can of dough.
These savory rolls ups are cinch to prepare and they come together in just a minutes. Once they are in the oven, they are generally golden brown and ready to cool on a rack after 12 little minutes of bake time.
It's also worth it to mention how cute and tempting they look on a serving plate!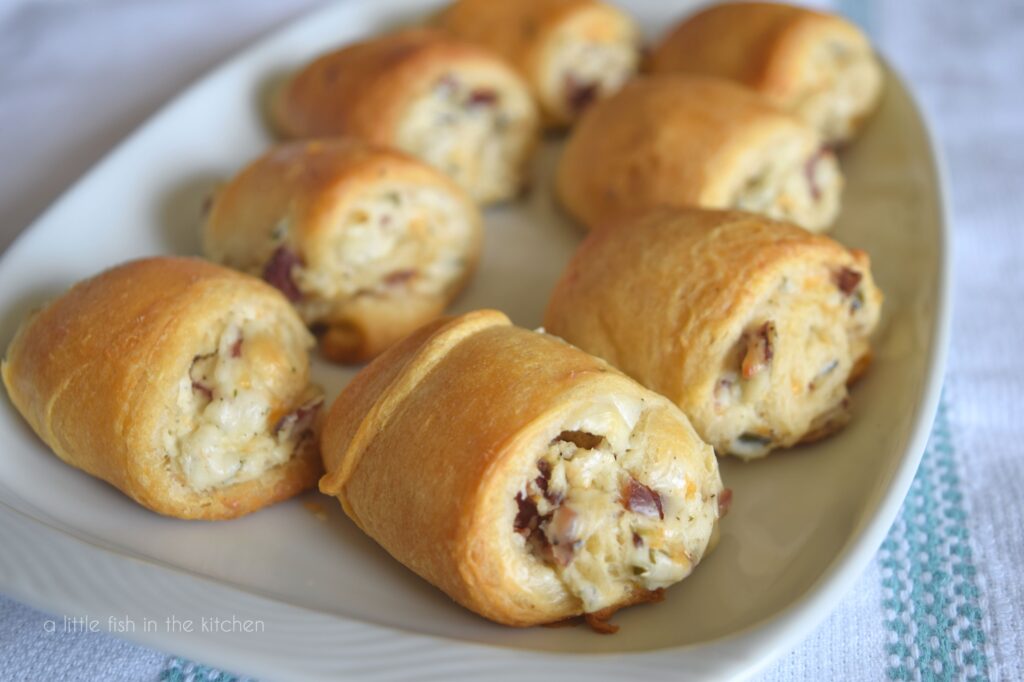 This recipe makes 16 servings, assuming two rolls ups per serving. If you are expecting a larger crowd, simply double or otherwise adjust the ingredients on the list below to make as many as you need or want!
I absolutely love these tasty little treats. It's honestly become one my favorite recipes for a quick and satisfying starter. I love it because as I can have a warm, flavorful, pastry-wrapped appetizer ready for my family to enjoy in less than 45 minutes! Sometimes we prepare these to munch on while we wait for a more time-consuming main dish or a barbecue supper to be done (it keeps the kids from losing their minds with impatience!). However, sometimes we make these Cheesy, Chive, Onion and Bacon Roll Ups and serve them up with a crisp, green salad for a comforting light dinner.
These are also really good served on the side with a bowl of this simple Old-Fashioned Potato Soup. Happy eating, y'all! – M
Some other easy appetizer recipes you might enjoy:
Please share this recipe on Pinterest!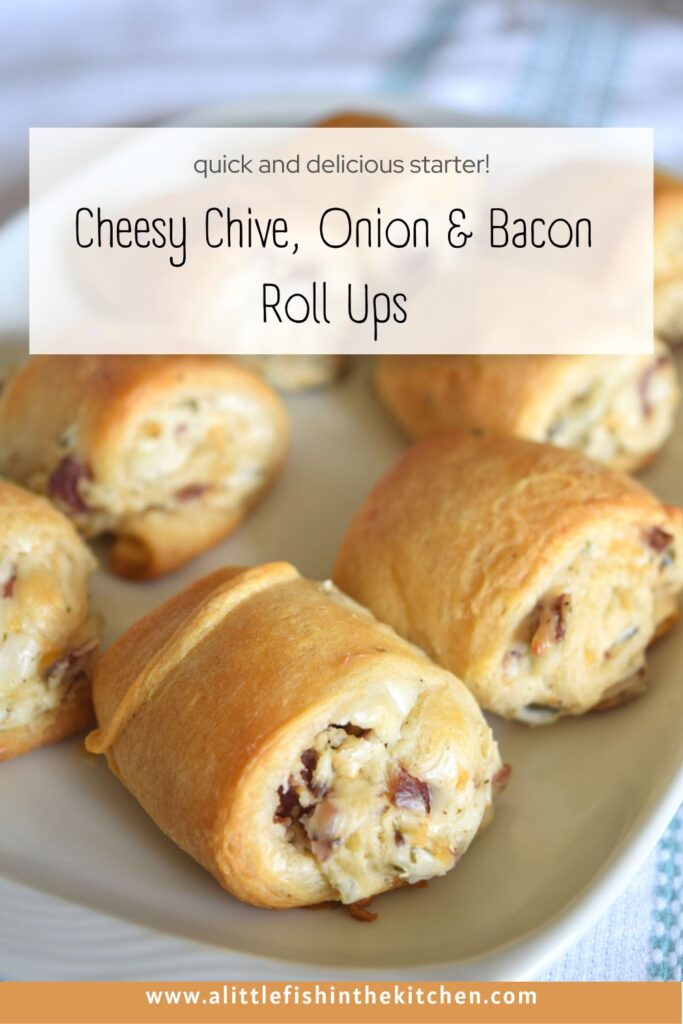 Sign up here to have all of my new posts sent right to your inbox! Subscribe now and never miss a recipe or an update!
Please check on of my latest videos and subscribe to my YouTube Channel for more recipes and live streams!
We are wrapping up our week-long celebration of National Dairy Month today! I've been a part of this even that has also featured several other creative food bloggers, please check out all of their new recipes below! Thank you to Jolene over at Jolene's Recipe Journal for getting us all organized for this fun, recipe-sharing event! This recipe is second of two new recipes I've shared for this event. I previously shared about this delicious Lemon-Blueberry Cheesecake Shake recipe, you'll want to see that recipe too!
Friday #DairyMonth Recipes
Cheesy Chive, Onion & Bacon Roll Ups
Course: Appetizers, Snacks
Cuisine: American
Difficulty: Easy
These Cheesy Chive, Onion and Bacon Rolls will be your go-to, no-fuss starter for gameday or any other day! These are easy and so flavorful!
Ingredients
1 tub (8 oz) Chive and Onion-flavored cream cheese

3 slices of crispy, cooked bacon, cut into bits

2 heaping tablespoons finely shredded cheddar cheese

1/4 teaspoon ground black pepper

1 can (8 oz) refrigerated crescent dinner rolls
Directions
Preheat oven to 375°. Line a baking sheet with a silicon baking mat or parchment paper and set it aside. In a small mixing bowl, mix together one-half of the tub (4 oz) of cream cheese spread, bacon, shredded cheese and pepper until well combined. Reserve the remaining half of the cream cheese for another use.
Separate the crescent roll dough into 8 triangles and then cut each in half lengthwise. Spread a generous 1/2 teaspoon of the cheese and bacon mixture over each triangle. Starting at the skinny, pointed end of the dough triangles, roll them up to meet the opposite edge.
Place prepared crescent roll ups, seam sides down onto the prepared baking sheet. Bake for 12-15 minutes or until tops are a golden brown. Remove pan from the oven and allow it to cool on a rack for 10 minutes.
Serve the Cheesy Bacon, Chive and Onion Roll Ups warm and enjoy!
Recipe Video
Notes
Recipe as published on A Little Fish in the Kitchen at www.alittlefishinthekitchen.com. All content is owned by Marcelle G. Bolton. Please contact the author for permission to republish.