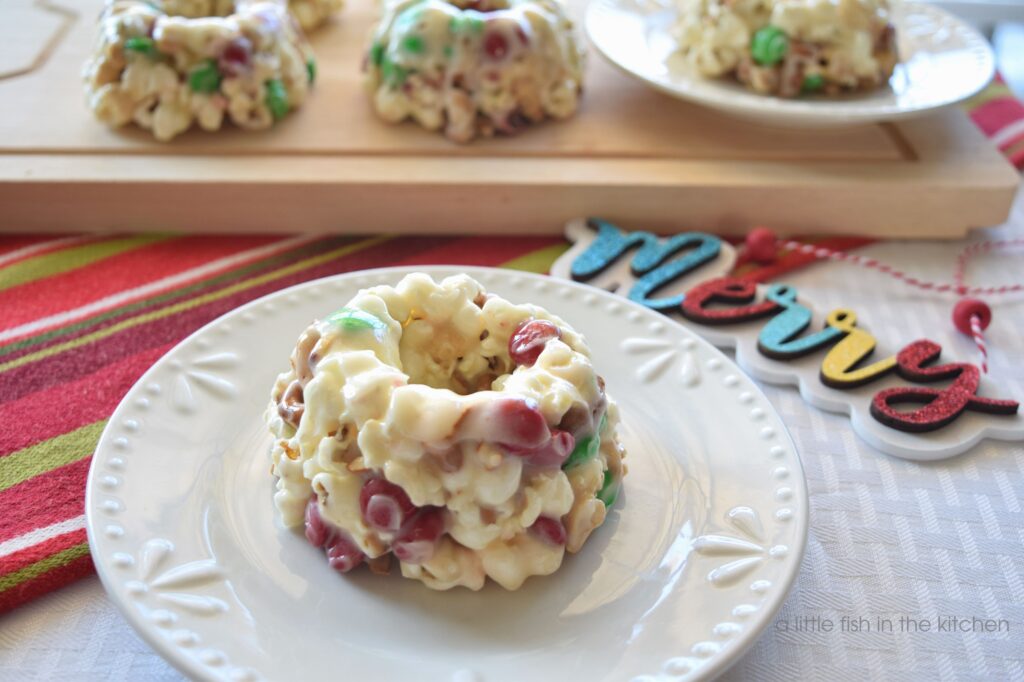 Even though we only made them a couple of times when I was a kid, I have always loved homemade popcorn balls. They are sweet, salty, decadent, contagiously festive, and back in the day they made an unforgettable impression on my 8-year-old self!
Seriously though, what's not to love about an old-fashioned popcorn ball? In my opinion, it's the whole enchilada when it comes to indulgent homemade treats: earthy popcorn, salty peanuts, rich chocolate candies all mingled together and completely coated with a (delightfully) sticky marshmallow coating.
It's just a yummy thing, y'all.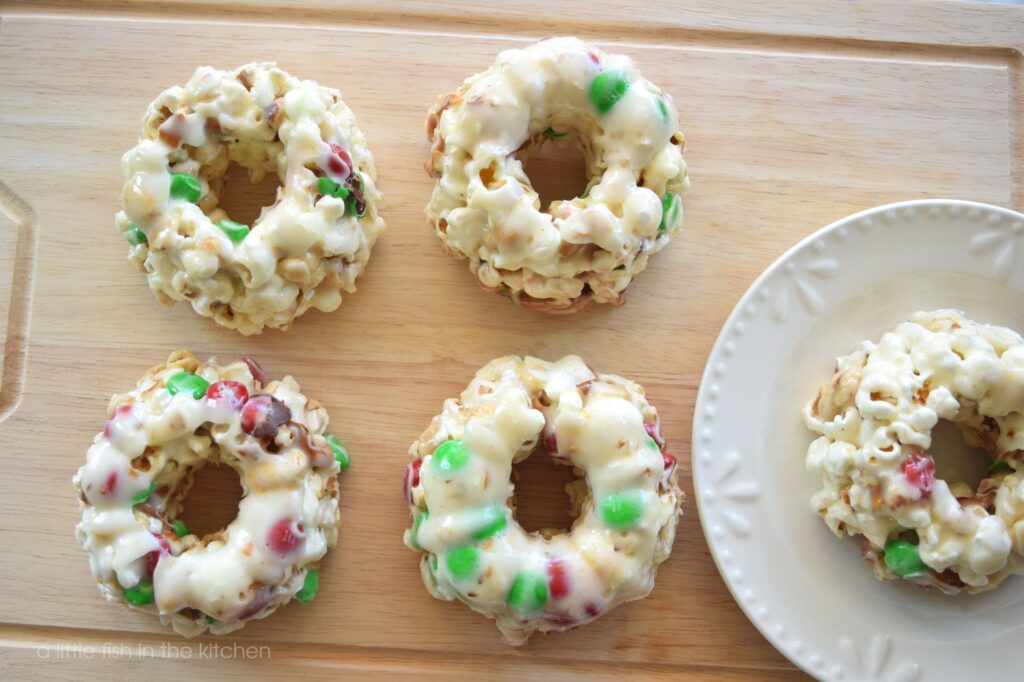 I attempted to do research so I could reference whoever had the stroke of sheer genius grand idea to use a bundt cake pan to form the same ooey, gooey popcorn mixture I described above into a popcorn cake, but I couldn't find any information at all. I only came across a handful of other blogs with very similar recipes to read. It's really hard to believe that no one has staked a solid claim to the popcorn cake concept, but it's most certainly a cool idea. Anyhoo.
A POPCORN CAKE, y'all! (Sorry for yelling, but I seriously just love it!!) It's sugary snacking madness, and one of the cutest darn things I have ever seen.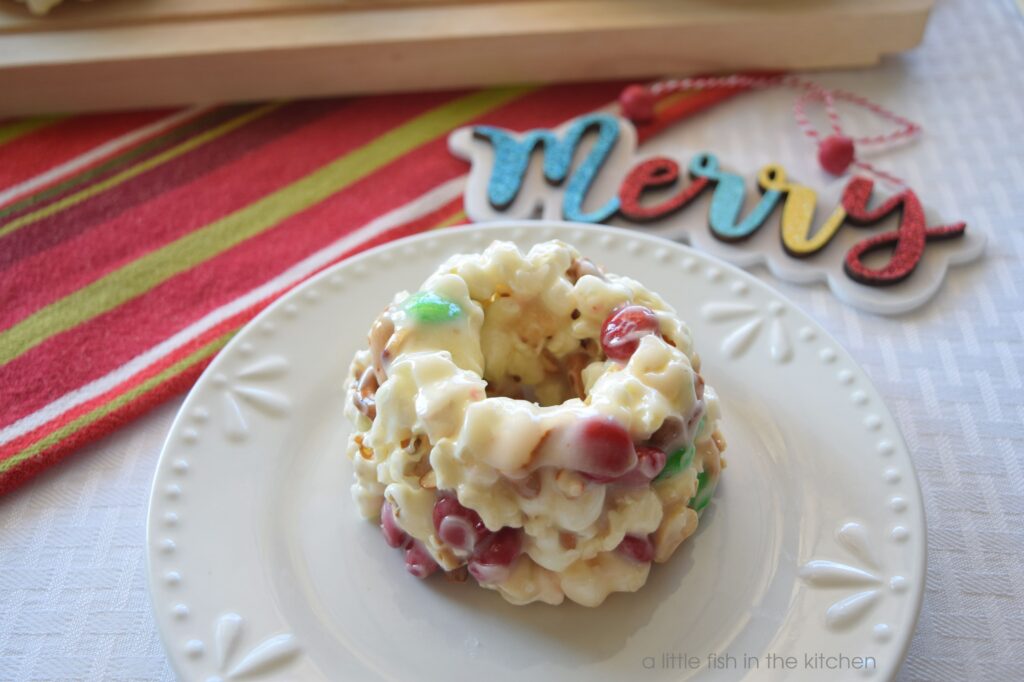 Since the holidays are coming up, I decided to make homemade popcorn balls with my kids. I was honestly very excited to do this with them because we'd never done it before! Making messy popcorn balls, just seemed like the way to go with kids in the kitchen, however I couldn't quit thinking about how eye-catching a full-size popcorn cake is.
I know it doesn't seem like a big deal, but my indecisiveness really kicked into overdrive over this dilemma. I was honestly torn over how to serve the sinfully sweet popcorn mixture. However, a compromise was swiftly made once I remembered I had a bundtlett pan in my cupboard!! Making these popcorn mini-bundt cakes was perfect solution for my obsess-y self, and I think they are so sweet in every way.
These popcorn mini-bundt cakes make a for a super cute presentation on a platter or in gifts bags and I hope you enjoy this spin on a classic if you try it.
Happiest of Holidays! – M 🎄🌟
Please check out one of my recent recipe videos and subscribe to my YouTube channel!
Be sure to Pin this for later!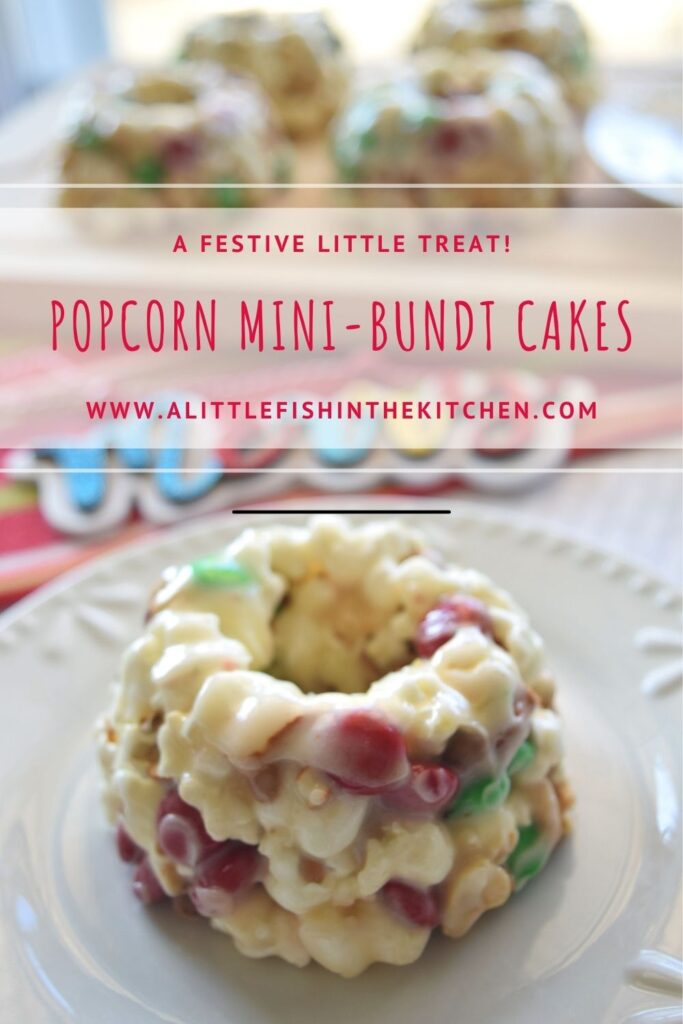 Please enter your email address below to have all of my new posts sent right to your inbox. Subscribe now and never miss a recipe or an update!
Popcorn Mini-Bundt Cakes
Course: Dessert
Cuisine: American
Difficulty: Easy
The vintage recipe for popcorn cake is extraordinarily cute in single servings! I used a mini-bundt pan to create miniature versions of this classic dessert treat. If you don't have a mini-bundt pan handy, this recipe will yield a full-size popcorn cake using a classic bundt cake pan instead.
Ingredients
6 cups plain popped popcorn

1/2 cup candy-coated chocolate candies (I used m&ms)

1/2 cup mini-pretzels, broken into bits

1/2 cup lightly salted, dry roasted peanuts

1 stick (1/2 cup) salted butter

1 (10 oz) bag mini-marshmallows
Directions
Generously grease the cavities of a 6-cavity mini-bundt pan with non-stick cooking spray or butter, as you prefer. Set the prepared pan to the side.
In a large bowl, combine the popcorn, candy, nuts and pretzel bits and stir. Set the bowl aside.
Over medium heat, melt the butter in a Dutch oven. Once butter is melted, stir in the mini-marshmallows. Stir constantly until the marshmallows are completely melted.
Pour the hot marshmallow cream into the popcorn mixture and stir to combine. Working quickly with greased hands, press the popcorn and marshmallow mixture into the prepared mini-bundt cake cavities. Fill all the way to the top and lightly pack into the pans with mild pressure (refer to recipe video below, if you would like to see how I do this)
Allow the popcorn mini-cakes to sit at room temperature until cool (about 10 minutes) and then refrigerate them in the mini-bundt pans for 20-30 minutes.
Carefully use a butter knife to remove the popcorn mini-bundt cakes from the pan. Serve immediately or store in parchment paper-lined containers until ready to serve. Best if kept refrigerated to maintain the proper shape. Will keep for up to 5 days.
Enjoy!
Recipe Video
Notes
Recipe from A Little Fish in the Kitchen www.alittlefishinthekitchen.com. All content is owned by Marcelle G. Bolton. Please contact the author for permission to republish.