Pumpkin season is here, and we are celebrating our love of pumpkin with #PumpkinWeek hosted by Terri from Love and Confections and Christie from A Kitchen Hoor's Adventures. All week-long 13 bloggers will be sharing over 40 pumpkin-filled recipes for all your Autumn celebrations, including breakfasts, baked goods, savory pumpkin recipes, desserts, and drinks.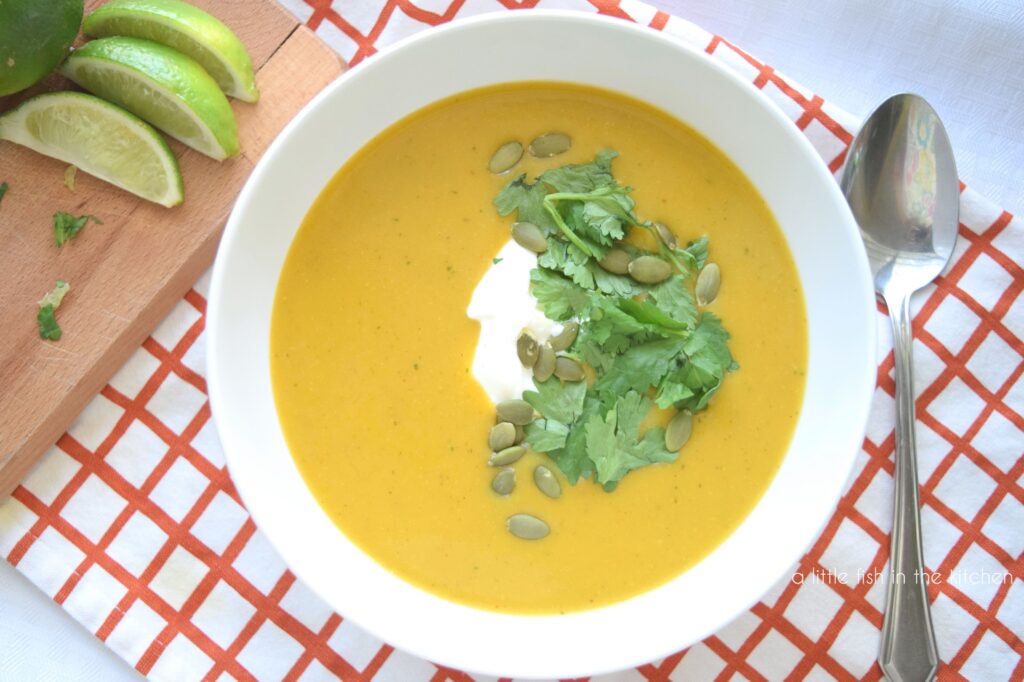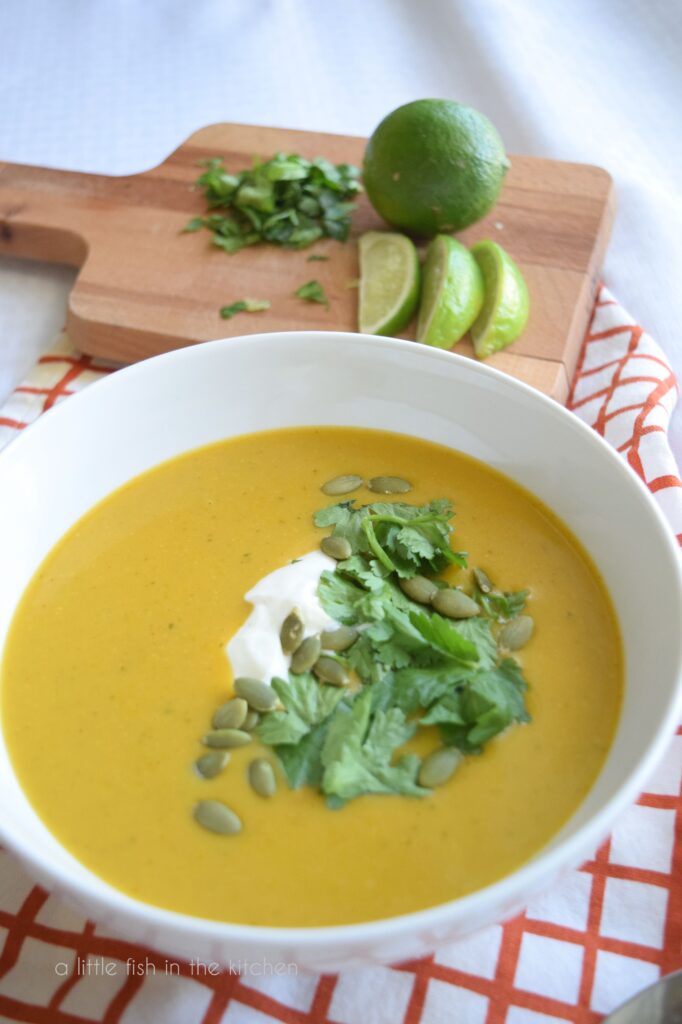 Be sure to check out one of my latest videos and subscribe to my YouTube channel!
Sign up here so all of my new posts will be sent directly to you inbox! Subscribe now so you'll never miss a new recipe or an update!
Creamy Southwestern Pumpkin Soup
Course: Main
Cuisine: American
Difficulty: Easy
This Creamy Southwestern Pumpkin Soup is packed with bold flavors, smoky spices and just a little bit of heat. A bowl of this flavorful soup will definitely warm you up on chilly nights!
Ingredients
2 tablespoons olive oil or butter

2 medium jalapeno peppers, seeded and chopped

1/2 cup sweet yellow onion, chopped

2 cloves garlic, minced

2 medium Russet potatoes, peeled and chopped (about 2 cups)

1 teaspoon Ancho chili powder

1 teaspoon ground cumin

1/4-1/2 teaspoon ground white pepper

6 cups chicken broth

2 tablespoons corn starch

1 can (15 oz) pumpkin puree

1/4-1/3 cup coarsely chopped fresh cilantro or fresh Italian parsley, to taste

1/2 cup half and half

3 tablespoon lime juice

optional ingredients for garnish

fresh cilantro leaves

green onions

sour cream

pepitas (pumpkin seeds)

pickled or fresh jalapeño slices
Directions
In a large Dutch oven, heat up the olive oil to a medium heat. Add the chopped onion and jalapeno. Saute for 3 minutes. Add the chopped potatoes and garlic. Saute all vegetables another 2 minutes stirring often.
Add in all of the spices and stir well. Add the chicken broth to the pot and bring to a boil. Cook the soup for 10-15 minutes or until the potatoes are tender. Remove the pot from the heat and stir in the canned pumpkin and the fresh cilantro or parsley. Stir until all ingredients are well combined.
Use a ladle to transfer the soup to the jar of a blender or a food processor, this will likely have to be done in two batches. Add the cornstarch to soup in the the blender jar. Close the lid and process until the smooth. Stop to clean the sides of the blender jar or stir, if necessary. Transfer the processed pumpkin soup to a large mixing bowl and set it aside. Next, add any soup that remains unprocessed in the Dutch oven to the blender jar and process it until it is smooth. Return all of the Southwestern Pumpkin Soup back to the Dutch oven.
Bring the pot back just to a boil and then remove it from the heat. Stir in the lime juice and then the half and half. Stir the soup very well.
Ladle the soup into individual serving bowls and garnish as you prefer with the suggested toppings. Serve warm and enjoy!
Notes
Recipe from A Little Fish in the Kitchen Blog at www.atlittlefishinthekitchen.com. All content is owned by Marcelle G. Bolton. Please contact the author for permission to republish.
Check out this other #PumpkinWeek Recipes below!
More #PumpkinWeek Recipes Below:
Breakfast and Breads
Soup
Desserts
Did you miss a recipe? Head to the Pinterest board to find all the #PumpkinWeek recipes shared this week.