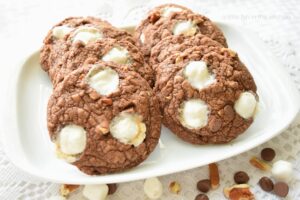 These Mississippi Mud Cookies are hands-down my family's favorite chocolate cookies. Oh, we have others that we enjoy, don't get me wrong. But, these rank right up there with our all-time favorite chocolatey Christmas cookies, Cappucino Crinkles!
I know you know what I mean… the kind of cookies children literally cheer for! This is that kind of cookie.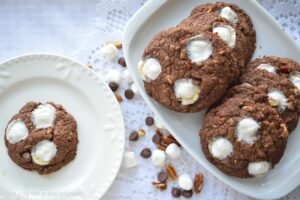 I love all things "Mississippi Mud" and several years ago I created a scratch version of a Mississippi Mud Cake that was one of my favorite desserts ever growing up. In that post, I go on to discuss some of the history of the recipe and speculation as to the allegory behind the name of the cake.
The cake recipe also has pecans, a fantastical melted marshmallow topping, and a luscious, chocolate glaze, all of which make it an irresistible dessert!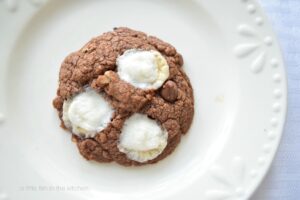 I don't add a chocolate glaze to these cookies, but they are packed with two types of chocolate for a richness that will have your resident chocoholics asking for seconds! These pretty cookies are also packed with fragrant toasted pecans and are topped off with sweet melted marshmallows for a gooey, signature finish.
If you are looking for something different to serve to friends and family during the holiday season, this cookie recipe would be a good one to save for later. Your chocolate-loving people will surely sing your praises when you gift them a dozen of these crazy-delicious cookies!
Enjoy the recipe and happy baking, y'all!
Please keep scrolling to check out today's delicious Choctoberfest recipes from our bloggers!
Friends, don't forget to visit my #Choctoberfest welcome post from Monday and enter for a chance to win this amazing prize!!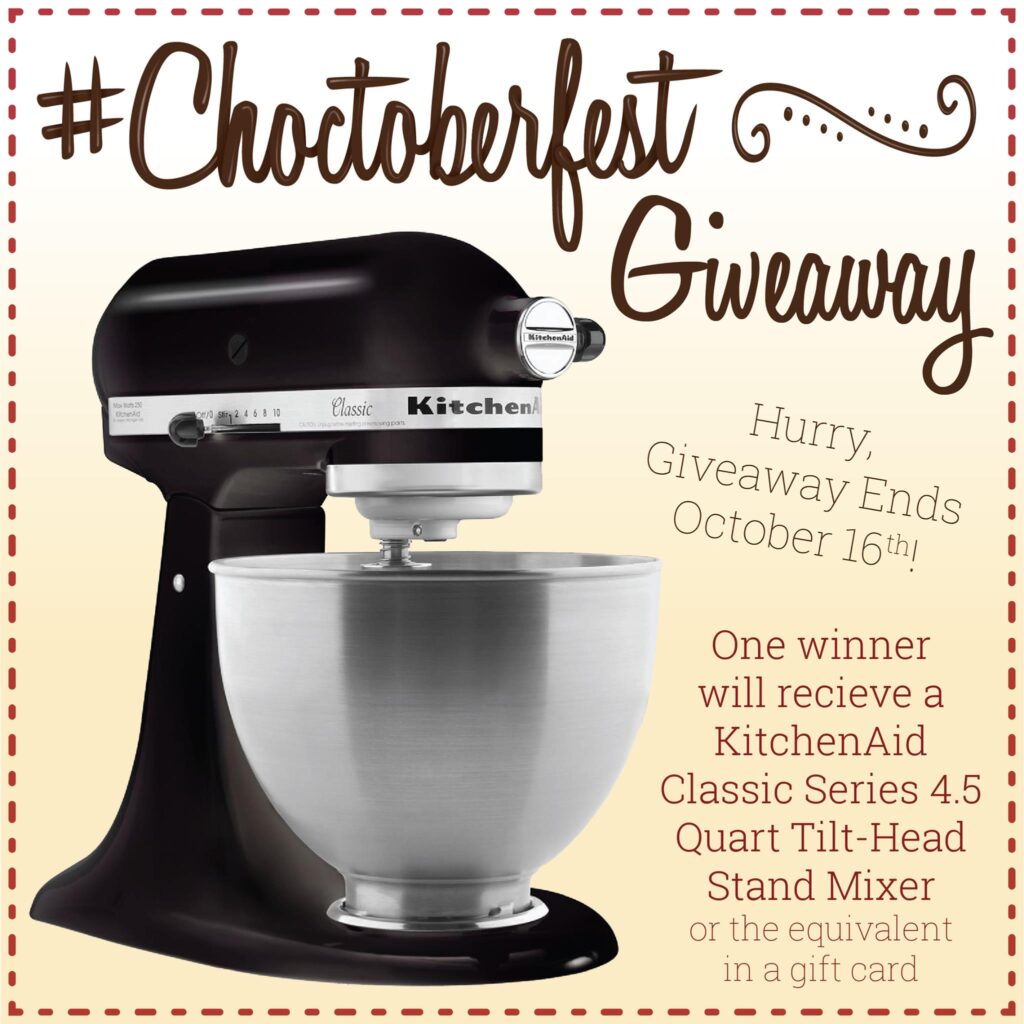 Y'all will definitely want to Pin this recipe for later!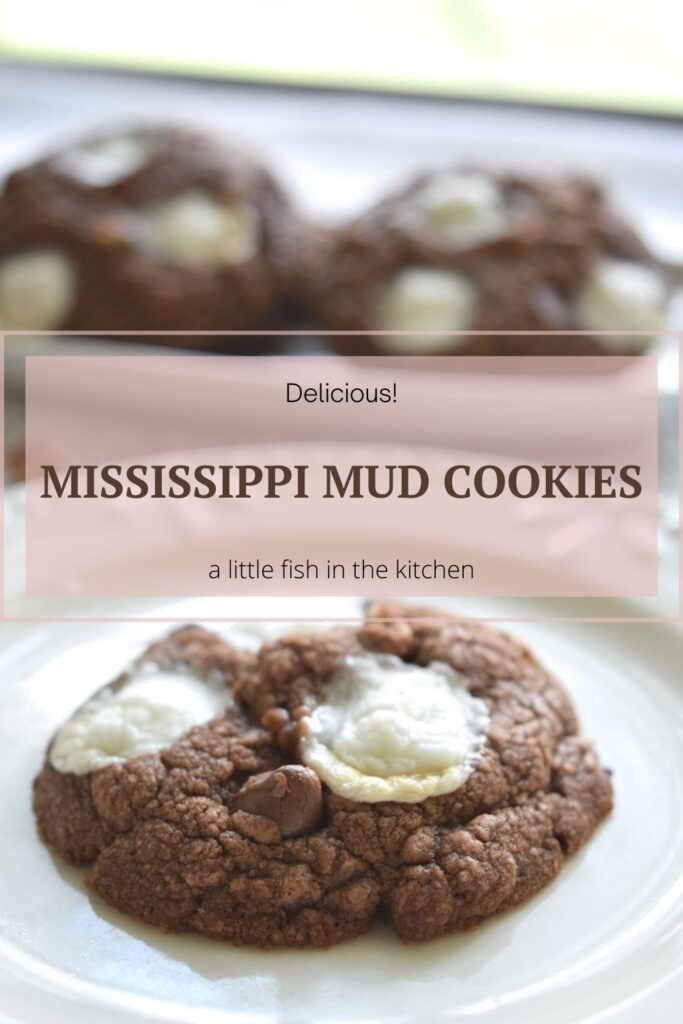 Wouldn't you like to stay awhile? Sign-up here to receive all of my new posts in your inbox! Subscribe now and never miss a recipe or an update!
Mississippi Mud Cookies
Course: Dessert
Cuisine: American
Difficulty: med
A platter full of these down-home, delicious Mississippi Mud Cookies will be the belle of the ball at your next get together!
Ingredients
1 cup semi-sweet chocolate chips

1 teaspoon of shortening (optional, *see notes below)

1/2 cup (1 stick) salted butter

1 cup sugar

2 large eggs

1-1/2 teaspoons vanilla extract

1-1/2 cups all-purpose flour

1 teaspoon baking powder

1 cup toasted, chopped pecans

1/2 cup milk chocolate chips

1 cup mini-marshmallows
Directions
Pre-heat oven to 350° and line large a baking sheet with parchment paper or a silicon mat, set aside. In a medium-size bowl combine flour and baking powder; set bowl aside.
Place semi-sweet chocolate chips into a microwave safe bowl, heat on high or until smooth (*see notes below regarding this step) Set bowl with melted chocolate aside.
In a large bowl cream butter and sugar with an electric mixer until light and fluffy (about 2 minutes) Add in the eggs, one at a time until well combined. Stir in vanilla extract.
Take a heaping tablespoon of the warm chocolate mixture and add it to the butter and egg mixture. Using a handheld mixer or a whisk, immediately mix the warm chocolate into the butter mixture on the high setting until all is well-combined. Add in the rest of the melted chocolate and stir until all ingredients are completely incorporated.
Add the flour mixture to the chocolate mixture, one half at a time until a thick batter forms. Fold in the milk chocolate chips and toasted pecans. Place heaping tablespoons full of the batter onto the prepared baking sheet.
Bake for 8 minutes and remove baking sheet from the oven. Press 3 mini-marshmallows into the top of each cookie and return the pan to the oven for 4 more minutes (12 minutes bake time total for each batch)
Remove cookies from oven and allow to cool completely on a rack.
Enjoy!
Notes
*If the semi-sweet chocolate morsels will not melt smoothly, stir in a teaspoon of shortening to help them break down to a smooth consistency.
Recipe from A Little Fish in the Kitchen blog at www.alittlefishinthekitchen.com. All content is owned by Marcelle G. Bolton. Please contact the author for permission to republish. 
Thursday's Choctoberfest recipes!