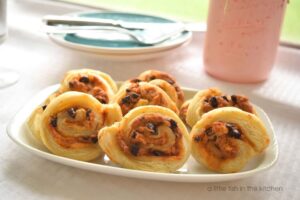 Mother's Day's is just around the corner and I'm not sure there is a better way to celebrate than with a tasty appetizer recipe and a Kitchen Aid mixer giveaway! These no-fuss pinwheels would be a tasty addition to your Mother's Day brunch table and a shiny, new stand mixer would delightful addition to any kitchen gadget collection! If you enter and win, this classic Kitchen Aid mixer would be an amazing gift for your mom… or you could just keep it for yourself!
Be sure to check out the giveaway rules and the entry widget below, there will be several ways for you to gain more chances to win!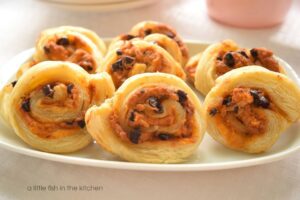 These five-ingredient pinwheels are simply made with store-bought puff pastry, sun-dried tomato pesto, ricotta cheese, Kalamata olives and chicken. When I made these pinwheels, I had just a handful of leftover chicken in my fridge that needed to be re-purposed, but a small amount of rotisserie-style chicken purchased from a store deli would be convenient and perfect to use for these too. Or, if you prefer to keep these vegetarian, just leave the chicken out completely.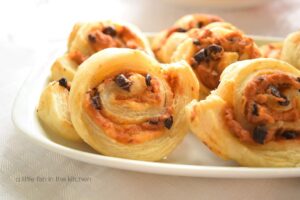 The flavorful combination of sun-dried tomato pesto, ricotta cheese, olives and chicken is one of my favorite fillings for these dainty pinwheel appetizers. However, if these Mediterranean-style fixin's aren't your thing, there are endless possibilities to make them your own way using both savory or sweet ingredients. Appetizers like these are truly a cinch to prepare and they can be a perfect menu addition for party or holiday snack table spread, no matter the occasion!
More information about this fantastic Mother's Day giveaway and your chance to enter to win a Kitchen Aid mixer is at the bottom of this post!
_________________________________________________________________________________
Pinwheels with Sun-Dried Tomato Pesto, Olives and Chicken
Ingredients:
1 sheet of frozen puff pastry, thawed
1/2 cup ricotta cheese
2 tbsp + 1 tsp sun-dried tomato pesto
1/4 cup pitted kalamata olives, finely chopped
3/4 cup cooked chicken, shredded or finely chopped
Instructions
:
1. Preheat oven to 375°. Prepare a baking sheet with parchment paper and set aside.  In a small bowl, combine ricotta cheese and pesto and set bowl aside.
2. Unfold thawed puff pastry on a lightly floured surface (be sure to remove any packaging).  Spread ricotta cheese and pesto mixture onto the puff pastry leaving a 1/2 inch edge of pastry. Sprinkle the chopped olives and chicken evenly over the cheese mixture.
3. Starting at the short side closest to you, roll the puff pastry up like a jelly roll. As well as possible, seal the edge and then carefully transfer the filled puff pastry roll to the prepared baking sheet and place it in the freezer for 15-20 minutes.
4. Remove the baking sheet from the freezer and then using a sharp knife, slice the puff pastry roll into about 15-16 slices. Lay pinwheels flat onto the parchment covered baking sheet and place baking sheet into the pre-heated oven.
5. Bake for 15 minutes or until pastry is golden brown. Remove pan from heat and allow to cool on rack. Serve warm or at room temperature and enjoy!
_________________________________________________________________________________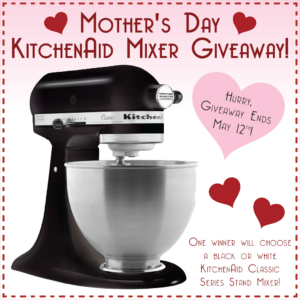 This is a blogger-sponsored giveaway and we are all thrilled to give our readers a chance to win this Classic Kitchen Aid mixer! Enter here, y'all!