Pretty soon you all will notice that I'm going through a couple of phases in my food preferences in some upcoming posts. First of all, I'm borderline obsessed with gorgonzola cheese at the moment. Seriously, I've been putting that stuff in everything. It's even good with roasted fruit for dessert…especially with warm pears, toasted pecans and a drizzle of honey (o. em. geee. It's soooo good!). I truly love gorgonzola cheese, but my husband doesn't… so there's. the. rub.
Wow, just a tiny little nod to Hamlet makes anything feel so serious all of sudden, right? Oh, man. Well, these sweet potato, zucchini and bacon pancakes aren't serious… unless seriously tasty counts. Anyhoo…
As it turns out, solving our difference of opinion over the ingredients in these little veggie cakes is easy enough. I just put forth a teensy bit of extra effort and separate the big bowl of shredded veggies into two small batches. I make some pancakes with my fave stinky cheese mixed in and some without…no biggie.
You know me, anything for world peace and dinner time!
My second mild, culinary fixation involves a renewed romance with my big food processor and all things made with shredded fruits and vegetables. Honestly, before I had the mind to make these sweet potato, zucchini and bacon pancakes, I had pretty much forgotten that food processor was up in my cupboard. I wasn't about to shred all of this veg by hand, so I decided to look for it!
That being said, I'm just glad to have that ever-so-useful gadget back in my life and I'm in awe once again of it's amazing strength and speed! That old thing will be making more regular appearances in the kitchen with me in the near future, for sure.
As with any shredded vegetable pancakes, it takes a little patience to keep forming them once you get them into the pan. Just know that they will come apart when they are first set down in the pan (no matter how meticulous you are) and they will crumble slightly when you flip them for the first time. Just gently pat them down and push them back into the shape of a pancake with your trusty spatula and all will be just fine at dinnertime!
Believe me when I say these sweet potato, zucchini and bacon pancakes are worth a little extra effort because they are pretty on the plate and they're pretty tasty too!
Happy eating, y'all.
Sign up here to have all of my new posts sent right to your inbox! Subscribe now and never miss a recipe or an update!
Share this recipe on Pinterest!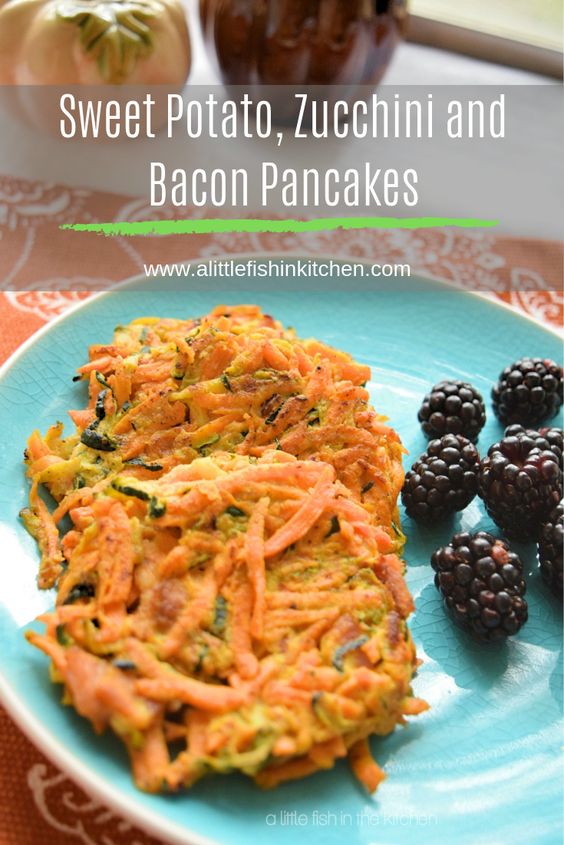 Sweet Potato, Zucchini and Bacon Pancakes with (or without) Gorgonzola Cheese
Course: Dinner
Cuisine: American
Difficulty: Medium
These sweet potato, zucchini and bacon pancakes make a satisfying and healthy main dish, with or without the addition of flavorful Gorgonzola cheese!
Ingredients
1 medium sweet potato, peeled and shredded

2 medium zucchini, rinsed and shredded

1/2 – 1 teaspoon salt

1/2 teaspoon ground black pepper

1 teaspoon onion powder

1/4- 1/2 teaspoon garlic powder

3 tablespoons flour ( use all-purpose or sub alternative flour of your choice such as coconut or almond flour)

2 medium eggs, beaten

6 pieces crispy cooked bacon, crumbled into bits (reserve a few tablespoons of bacon grease!!)

1/3- 1/2 cup crumbled gorgonzola cheese (to taste, optional)

2-4 tablespoons extra virgin olive oil 
Directions
Using paper towels or a clean tea towel, gently squeeze some excess moisture out of the shredded zucchini and return veg to the bowl. In a large mixing bowl, combine shredded sweet potato and zucchini. Add in spices and flour, mix well. Stir in the in the beaten eggs. Finally, fold in the bacon bits and crumbled cheese.
Over medium heat, warm 2 tablespoons of reserved bacon drippings or olive oil (or a combination of oils) in a large skillet. Shape palm-sized portions of the veggie mixture into patties and gently place them, one at a time, into the warm skillet. Use the spatula to press patties flat and push the sides and continue shaping veggie mixture into patties in the pan. Cover skillet and allow patties to cook for about 3 minutes or until lightly browned on that side.
Using a spatula, carefully flip the veggie patties and continue to reshape the sides with spatula if they come apart (no biggie!). Cover the skillet and allow patties to cook on the other side for 3 minutes more. Once patties are lightly browned on both sides and appear done, remove them from the skillet and allow them to drain on paper towel for a minute or two.
Serve warm with fresh fruit and enjoy!
Notes
Recipe as published on A Little Fish in the Kitchen at www.alittlefishinthekitchen.com. All content is owned by Marcelle G. Bolton. Please contact the author for permission to republish.