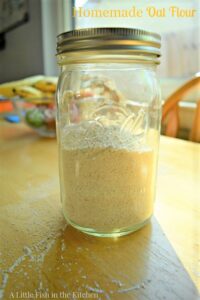 Lately, we've had an increase in the people close to us who have developed a gluten sensitivity and left me (a.k.a. the friend/family member who likes to bake… a lot) looking for wheat flour substitutions that don't break the bank.  So, before a few of my upcoming posts are published, you all should meet my newest friend, homemade oat flour! Oat flour is simply made from ground rolled oats and is naturally gluten-free. Gluten is only a component of wheat. 
It's truly become one of my new favorite things. It's proving to be a great substitution for all-purpose flour to create all (or most) of our favorite baked goodies. I also think it has a wonderful flavor with a somewhat hearty texture. I've been experimenting with oat flour a bunch this week and so far I've made some spiced mug cakes (I'm now permanently addicted to oat flour mug cakes, just FYI), brownies, and an apple snack cake using it and everything baked up without a hitch!
It's also inexpensive and super easy to make it at home. All you need is a good blender or a food processor and a sieve. If you've ever explored the alternative flour section at your supermarket, you know how much those small packages can cost (yeah buddy, we're talking $$$). Taking on easy prep jobs, like this one, by yourself will definitely keep your piggy bank from squealing in agony. 
Personally, I prefer to use my blender over my food processor for jobs involving small batches of pretty much anything. In my opinion, a blender is a bit more effective or small quantities of ingredients that need pureeing or grinding. Those big blades in a food processor can miss a lot when it's bowl is not full. 
Oat flour is also really healthy and I think everyone can feel good about that. Whole oats have been studied extensively and are attributed with health benefits that include lowering bad cholesterol, increasing the hormones that control appetite, lowering blood pressure. There are also a few health properties that are outlined on this page located on the Whole Grain Council's website. Those amazing beneficial properties are present to some degree in oat flour too. 
Even if you don't have issues with gluten yourself, using oat flour to make some of your baked goods is well worth a try, in my opinion. There are a few good recipes out there for baking with oat flour, but if you're looking for more suggestions, I've got a few more posts using this tasty stuff coming up for Little Fish very soon.
Stay tuned, my friends and have a lovely weekend! xoxo
Use this money-saving recipe to make your own gluten-free, oat flour at home! 2 cups rolled oats will yield roughly 2 cups processed oat flour.
Ingredients
2 cups organic rolled oats
Directions
Place oats in a blender and grind/pulse until oats are good and powdery. Should take just a couple of quick pulses to do this. 
Press the ground oats through a sieve or a sifter to eliminate any large, coarse bits and pieces from the oat flour.
 
Store in an airtight container or mason jar. 
Notes
If you need more than two cups of oat flour, repeat the process until you have the quantity that you need. Oat flour also works well when used in a mixture with all-purpose flour or in a combination with other gluten-free flours.
Recipe as published on A Little Fish in the Kitchen at www.alittlefishinthekitchen.com. All content is owned by Marcelle G. Bolton. Please contact the author for permission to republish.